All of our collection services take into account local regulations and environmentally friendly disposal requirements. We partner with processing facilities across the Central Coast and Sydney to ensure the best possible results with recycling, dismantling of products and the safe disposal of chemicals and more.
Broad range of Central Coast rubbish removal services
We offer a full-service rubbish removal in the Central Coast, we do everything. Think of it less like a kerbside cleanup, but rather a hands-on service where we assist with physically removing rubbish, carpeting, furniture and almost anything you can think of.
This service is designed for those who don't want to, or cant, lift and load these items and rubbish into their own vehicles or simply can't take it all away on their own.
The final clean
After all of your rubbish, junk or old furniture has been removed and placed into our removal truck we will then begin the cleanup process. This is applicable to homes, offices, backyards and even commercial spaces. We make sure the area we've removed all the rubbish and clutter from is spotless and free of any leftover pieces of rubbish or glass. That way you can use the area right away without needing to clean it yourself.
Experience, punctuality and pride
We place a quality service over everything else. That's why our Central Coast rubbish collection is full-service and done by experienced, punctual and driven removal crews who make sure our service is second to none.
Our expertise and equipment mean we are able to assist in the removal of countless items ranging from:
Brooke Cherie
1701829999
Very happy with the service from booking to collection. Staff are friendly and professional. I would definitely recommend and I will absolutely call in the future for more collection services.
Lisa
1700950515
Professional, punctual and great job
Susan JW
1700002804
Very fast, efficient and arrived within the timeframe. Will book again most likely after the Christmas carnage.
Debra Hollinger
1699426438
Leon & Simon got straight into emptying a very old shed. Hard working, professional & very nice young men. Thank you for your hard work.Deb
bPW BPW
1699225587
Best rubbish removal I have ever used
Elaine Meirelles
1697688324
Best price on the market.The guys came on time, reliable, friendly and polite. The job was done in a blink.Thank you for you help.
DO YOU SERVICE MY AREA?
We service the entire limits of the Central Coast. For your free quote, give us a call today.
Do We Service Your Postcode?
Check here:
Safely disposed
During every rubbish collection job on the Central Coast we make sure to separate all of the items we're required to remove from homes, offices and industrial settings to make sure we can easily dispose each item correctly depending on its category.
Hazardous materials like cleaning agents, batteries, gas cylinders, pool chemicals and fertilises will be correctly removed and safely transported to our facility and then on to a chemical and hazardous disposal facility.
Capable Team
Working in the waste and rubbish collection industry for so long means our team has created a streamlined and simple process for collecting all of our customers rubbish or old unused items.
We work alongside companies in industrial, commercial and retail as well as residential homeowners who need assistance cleaning and throwing away rubbish before a sale or other reasons.
Our multi-faceted teams are able to assist with simple rubbish removal, the physical removal process involving tasks like removing carpets, doors and more, as well as the final cleanup after the removal process is complete.
Say goodbye to hiring a skip and loading rubbish yourself. We can arrive at your address and do all the heavy lifting and disposal for you.
Get in touch with us today and arrange a quote.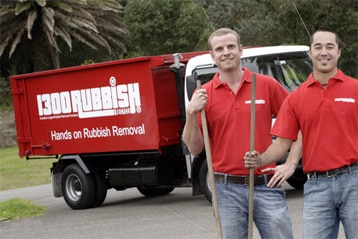 Frequently Asked Questions
How quickly can we pick up your rubbish?
We are able to offer same day rubbish removal for many of our customers. How quickly we can pick up a load of rubbish will depend on many things such as the size of the job, its location and seasonality. Call us today for a free quote to find out.
What areas around the Central Coast do you service?
We service the entirety of the Central Coast. We remove rubbish anywhere, from Tuggerah to Gosford.
What services do we offer?
We offer a whole range of services in the
residential
, 
commercial
 and 
construction 
space. Whether you're just cleaning up around home, or you need an entire job site cleared, we have the team and truck for you.
Can I get a free quote?
Excellent
4.9
★
★
★
★
★
Based on 724 reviews from
Brooke Cherie
★★★★★
Very happy with the service from booking to collection. Staff are friendly and professional. I would definitely recommend and I will absolutely call in the future for more collection services.
Jane Lovell
★★★★★
Quick service, friendly team, and job done.
Lisa
★★★★★
Professional, punctual and great job
Lari
★★★★★
Great experience, crew were friendly, efficient and great at what they do. Customer service was also amazing. Was by far the most reasonable quote I recieved and they went above and beyond for the job. I offered to help but they were happy to do everything themselves. Highly recommend!