The process of demolishing a kitchen may vary from one project to another depending on the needs and the desired outcome of a household. Generally speaking, it would involve taking out cabinetry and appliances in reverse order based on how they were initially installed. Major renovations at the kitchen which need structural changes such as door or wall removal would also involve doing extra reframing work.
Appliances Removal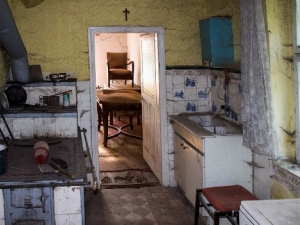 Before you start with any kitchen demolition project, make sure that you have removed the appliances in order to clear up the space that you would need in removing other elements. You can rent a so-called "appliance dolly" which can help you a lot in wheeling out those heavy appliances particularly if you're doing the project all by yourself. When it comes to disconnecting and moving gas appliances, you need to seek a licensed plumber first for safety purposes. If you have a refrigerator that comes with an ice-maker attachment, it would be wise to turn the water off prior to disconnecting the tube for the water supply that is found at the rear.
Cabinets Removal
In removing cabinets, the first thing to do is to get the base units out. Doing so will eliminate the need to reach up over them while you are removing the upper cabinets. When it comes to removing stock box cabinets, all you need to do is to remove the screws that bind them into each other and into the wall framing. However, cabinets that have been framed on site and have been initially built in should be ripped or cut apart using a reciprocating saw.
Removing the Plumbing Fixtures
Basically, the process of removing plumbing fixtures would involve removing the kitchen sink and the dishwasher. First, turn the water off then disconnect any water supply and drain pipes. Normally, dishwashers are secured to the neighboring cabinets or to the countertop with screws. Remember to remove the screws prior to sliding out the dishwasher. If your sink has been caulked to the countertop, you can use a pry bar in order to free it. If it has been clipped to the top coming from below, the first thing you should do is to remove those clips.
Removing the Kitchen Countertops
Take the time to discover and understand how your countertops and cabinets are installed to help speed up the countertop removal process. You can try checking beneath the sinks and counters and learn how they are connected to the cabinets. This can help in minimizing damage if you plan to reuse your old sinks and counters.
With a pry bar, you can easily remove your kitchen countertop and tiles from a backsplash. Another good tool to use is a saw which is good for cutting off the countertop in chunks.
To learn more on how you can have a successful kitchen demolition and removal project, you can call our office at 1300 Rubbish and take advantage of our professional and reliable rubbish removal services. Just dial 1300 78 22 47 and our friendly customer service team will be more than willing to answer all your queries.
Excellent
4.9
★
★
★
★
★
Based on 724 reviews from
Brooke Cherie
★★★★★
Very happy with the service from booking to collection. Staff are friendly and professional. I would definitely recommend and I will absolutely call in the future for more collection services.
Jane Lovell
★★★★★
Quick service, friendly team, and job done.
Lisa
★★★★★
Professional, punctual and great job
Lari
★★★★★
Great experience, crew were friendly, efficient and great at what they do. Customer service was also amazing. Was by far the most reasonable quote I recieved and they went above and beyond for the job. I offered to help but they were happy to do everything themselves. Highly recommend!