Old Furniture Removal and Disposal
Old Furniture Removal and Disposal
Our homes are our own personal paradises, we design them to suit our every need and to keep ourselves and our families comfortable, however, as our lives change so to do our needs. So as your life changes your furniture needs will change as well.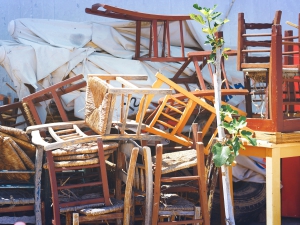 Whether you're on the move to a new house or even moving out of Australia you might not be in the position to take all of your old furniture with you. Perhaps you're downsizing to a smaller house or maybe you're just in the mood for an update.
Whatever the reason you have to dispose of your old furniture, our team of experienced removalists will be able to offer their professional services and make sure the entire experience is as stress free as possible. We are the experts in furniture removals.
Old Household Furniture
Unlike a lot of clutter or household items that can be easily disposed of with your own rubbish or even with a skip bin, for bigger, bulkier items such as furniture  you'll need the help of professional removalists. The dedicated team at 1300 Rubbish regularly deal with  the removal of worn out or unwanted furniture.
No matter where in Australia you are based, be it Sydney, Melbourne, Brisbane, Adelaide or really anywhere across our great nation, our experienced team of rubbish removalists will be there to provide their high-quality removal services. If you do your research you'll find our our team always comes highly recommended and our extensive fleet of trucks and removalists are prepared for any job, big or small.
At 1300 Rubbish the client is our number one priority and we guarantee that our team will arrive on time, will be ready and willing to take care of everything from old furniture to e-waste and even garden waste, and make the entire say feel as stress free as possible.
Commercial Rubbish Removal
Need help removing old office furniture from a commercial space? Don't worry, 1300 Rubbish is here to help with all your residential and commercial furniture removal needs. So whether you're doing a full offer refurbishment or just replacing some furniture 1300 Rubbish is ready to offer their rubbish removal services. They are capable of removing office furniture, filing cabinets, IT equipment and even construction debris in no time at all so you can get back to business. No job is too large or too small for our rubbish removal company.
Commercial Rubbish Removal
Our experienced team of removalist professionals are experienced professionals and have been providing rubbish removal services for years and have perfected their processes.
Still waiting for council clean-up? Governments and local councils provide an excellent service when it comes to standard bin collection. However, if you've got a large item you're looking to dispose of then you often can't wait to organise a council clean up. That's where we come in with our quick and affordable service. We'll arrive on time, remove all the furniture you would like to be remove and then dispose of everything responsibly. If any of your furniture, green waste, or household waste can be recycled we will take them to the nearest recycling centre. We have the highest respect for our clients properties and promise to do an excellent job cleaning up your space after we finish removing your rubbish.
We know that your homes are your sanctuaries and so we promise to take care of it. We are efficient, reliable, professional and and environmentally friendly.
We know that you have a lot of options when it comes to rubbish removal services and so we appreciate your trust in our team, we promise we'll do a great job.
Call us on 1800 766 716 or contact us through our website for a fast obligation-free quote today. We look forward to hearing from you.