Whether your office is small or large, the desire to conduct an office clean out shouldn't be ignored in any situation. This is because maintaining a clean working environment can affect employees' efficiency, health and well-being. It's also a good way to achieve a more professional impression on suppliers and clients.
Office Clean Out Sydney –Summer or Fall?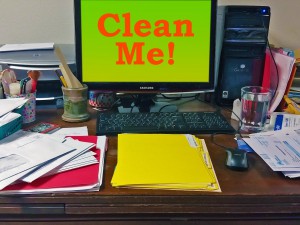 Most offices choose summer as the best time of the year to schedule a day for office clean out. It is also during this period when a number of offices would decide on moving which entails a lot of packing and moving of office files and furniture. In order to gain a systematic office clean out, there should be enough guidance that can help in the transition to a new office location.
On the other hand, an office clean out during fall is one of the best ways to keep the germs out of the office. This is because the month of October is seen as that time of the year when the flu season begins. With the temperatures dropping, most people prefer to keep their windows and doors closed more. As a result, dust and dirt also tend to increase because of the reduced ventilation.
Fast and Efficient Office Clean Out
The excitement brought by moving to a new office should not be overshadowed by the dreadful thought of conducting a clean out. Our team at 1300 Rubbish provides fast and efficient office clean out services to help offices in clearing out their space. With our decades of experience in cleaning out offices, you can be sure that each junk will be sorted out and that working areas are cleaned up promptly.
Popular Items That We Can Take
No need to worry about a single thing in your office clean out as our team at 1300 Rubbish can do all the lifting and carrying needed. We can help you in carrying out popular office furniture and items at a schedule that works best for you. Some of the items that we can take include electronics, office desks, office chairs, wood desk, bookshelves, pressed board shelving, computer and paraphernalia, old files, metal filing cabinets and more. If there's a carpet that has to be disposed, we can remove it as well. Just give us a call at 1300 78 22 47 and let's talk.
Office Clean Out Materials
On the day of an office clean out, it pays to have temporary recycling bins as a way to anticipate volumes of rubbish. Such bins should be able to provide a good solution in throwing away huge piles of paper, office files, folders, books and binders. It also helps to achieve a faster clean out in the office since each one involved will know upfront on what to do with the rubbish in question and how to dispose it properly.
For all your other concerns in doing an office clean out, don't forget to drop us a line at 1300 78 22 47. Our friendly customer service team will attend to your queries and everything else.
Excellent
4.9
★
★
★
★
★
Based on 724 reviews from
Brooke Cherie
★★★★★
Very happy with the service from booking to collection. Staff are friendly and professional. I would definitely recommend and I will absolutely call in the future for more collection services.
Jane Lovell
★★★★★
Quick service, friendly team, and job done.
Lisa
★★★★★
Professional, punctual and great job
Lari
★★★★★
Great experience, crew were friendly, efficient and great at what they do. Customer service was also amazing. Was by far the most reasonable quote I recieved and they went above and beyond for the job. I offered to help but they were happy to do everything themselves. Highly recommend!