Residential strip out – home renovation, internal house demolition
There are numerous tasks that are needed to be completed in a home renovation, where you might not even know where to begin! When it comes to revamping a home, it can take months to plan and even more months to complete the entire transformation process. Although renovating a house can be an overwhelming experience, it can be an exciting one with sufficient preparation. Whether you're renovating to enhance the quality of your home for you and your family or looking to renew a property for investment, you can easily renovate a house according to your needs. Here are some tips and tricks to plan a home renovation.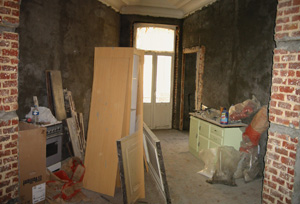 1. Consider building costs
Before diving into the building aspect of your renovation, you need to formulate a budget. Creating a budget will help you keep tabs on the amount financing that is required to purchase building materials and furniture to refurbish your home. Your budget should also include the labour needed to build and install furnishings into your home.
2. Get rid of what you don't need
When restoring an old house, there are various types of waste that you will need to get rid of and get rid of fast to begin working on your new home. This can range from garden waste, old furniture and torn down walls to allow a clear and open foundation to build your home. Use our residential rubbish removal service to make this as affordable and easy as possible. This removal service is priced at an affordable rate, also ensuring that your waste will be recycled if possible. A win-win for you and the environment.
3. Plan your design
Giving your house a facelift means that you will ideally want your house to look better than it was before. You will first need to consider the layout of your home by assessing the blueprint of your house's footprint. You will also need to consider the extent of your home renovation. Will you be renovating every single room? Are you planning to add more rooms or even perhaps, a second floor? Undertake research on rooms that will require cooling and heating and ways to save on electricity costs. Perhaps you can install a skylight in dark corridors or in the garage. Adding more windows adds a natural lighting that is cost-efficient and brings a new aura to any room or area. You will also need to consider which walls to insulate or soundproof and whether to add extra walls to separate rooms or perhaps leave it open and transparent. Look upon Pinterest and Tumblr for inspiration on ways to design the concept of your home. Stick to neutral tones for a modern look.
Find ways to cut down costs
Reducing expenses by purchasing building materials according to seasonal demand. Summer amenities such as swimming pools can be expensive during the summer where costs of heating equipment can peak during the winter. You can also choose to purchase cheaper building materials through using recycled materials. Also discover items within second hand stores or via online community marketplaces such as eBay and Gumtree for mirrors, furniture and home décor.
Conduct a building inspection
Check whether the council allows for your renovation changes. This is highly required especially if you are building an additional floor to your home or if any of your changes can interfere with the space of your surrounding neighbours. Wiring and plumbing are also considerations that should be inspected to ensure that your home is safe to live in. You may require building permits to ensure the quality and sustainability of the home is safe for living. Building a new roof, installing new doors, windows or fireplace typically will require a permit. Installing a tall fence, a new deck and adding rooms also would require a permit from your local council.
Hire professional contractor
With the right labour, you will be sure that you will be able to get the job done faster and correctly. Since the tradespeople are specialists in their field of work, you will be sure that they will be able to understand how you want a feature to be fixed in your home as well as giving you expert advice and consultation on the best means to have it installed. To determine which builder produces high quality work, look upon their reviews as well as ask for customer referrals from previous customers and jobs that they have worked on. Getting a professional to complete your work is efficient in the long run as you will require less maintenance and issues if you were to complete it yourself.
No matter what type of work needs to be done to complete your home renovation, ensuring that you are well prepared and have undertaken research into the process of the renovation will allow you to complete your home restoration successfully. What tips will you use to plan your next home renovation?
Excellent
4.9
★
★
★
★
★
Based on 724 reviews from
Brooke Cherie
★★★★★
Very happy with the service from booking to collection. Staff are friendly and professional. I would definitely recommend and I will absolutely call in the future for more collection services.
Jane Lovell
★★★★★
Quick service, friendly team, and job done.
Lisa
★★★★★
Professional, punctual and great job
Lari
★★★★★
Great experience, crew were friendly, efficient and great at what they do. Customer service was also amazing. Was by far the most reasonable quote I recieved and they went above and beyond for the job. I offered to help but they were happy to do everything themselves. Highly recommend!