There are almost 25 million tonnes of builders' waste that are produced from works on the construction site. Keeping a worksite clean and tidy is integral to ensuring safety, security and professionalism on site. Debris can cause injury and increase the risk of workplace danger for site workers, proprietors and even visitors.
Builders waste removal should be prioritised in a construction workplace to avoid these problems and mitigate risk. At 1300 Rubbish, we specialise in keeping things neat and tidy, with our builders' rubbish removal services offering safe, clean and responsible removal of construction waste and debris.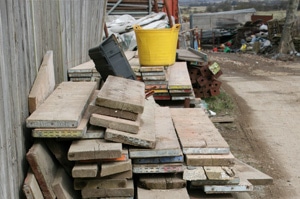 Tidying Up the Construction Site
Construction works produce loose scraps that are a threat to anyone's safety. These scraps include flooring, timber, drywall and other rubbish from construction that can pose unforeseen harm and danger.
Some of the possible occurrences that can result from ignoring and neglecting builders' rubbish include accidental fire, human tripping and unhealthy exposure. If the builders' rubbish seems too much to handle, you can try doing a periodic cleanup in order to avoid unwanted accidents.
When there is construction debris in your work location, employees may find it an obstruction to their productivity. It's absolutely difficult to work accordingly when you know that you are in a cluttered working environment. Likewise, a cleaner office building enhances increased job efficiency and a more pleasant working mood.
Builders' rubbish and any other types of rubbish are ugly. By practising a timely removal of construction waste and debris, you can help in keeping the place as pleasant as it should be throughout the project period.
Construction Site Rubbish We Take
At 1300 Rubbish, we pride ourselves on our responsibility to provide clean, safe and tidy construction site waste removal. For construction waste removal and construction site rubbish, we are able to remove and dispose of a range of different waste materials. This includes demolition materials, debris, broken bricks and glass, and other waste that is not able to fit in regular bins.
Our builders waste removal service falls into general disposal of these five categories:
Recyclable waste like brick, concrete and roof tiles
Timber
Steel
Gyprock
Fixtures – Furniture and cupboards
We can also remove other builders waste and rubbish, such as:
General site waste:
Material packaging: boxes, plastics, scrap metal
Broken elements; doors, trusses, concrete blocks, gyprock
Hazardous materials:
Flammable materials
Batteries
Lightbulbs
Chemicals
Rust removers
Drain cleaners
Recycling Building Waste
At 1300 Rubbish, we always aim to be as sustainable and eco-friendly as possible. Recycling materials is one of our top priorities when providing waste disposal services. For building materials and debris, there are often many elements that can be recycled and reused for other purposes.
Recyclables that can be taken from a worksite include:
Certain plastics
Glass
Aluminium packaging or construction elements
Cardboards
Steels
When disposing of rubbish and builders' waste, we ensure that our partnered recycling depots and facilities receive any materials that are able to be recycled for future use.
Why not use a skip bin?
Construction sites and building sites can be full of different kinds of waste, rubbish and junk. Using a skip bin for worksites is most common when it comes to builders' waste disposal, however, it does not allow for the separation of rubbish materials.
Many skip bins are not large enough or do not have enough capacity for the amount of waste that is produced by construction sites or building materials. On top of this, skip bins mean that tidying and clearing rubbish is the responsibility of the site crew and employees. Hiring a professional team from a rubbish removal service means that your worksite can be safely and efficiently cleared of all the rubbish it has produced.
Of course, skip bins can be great for small jobs, DIYs and smaller sites that are disposing of similar materials. However, a skip bin, while convenient, does not allow for recycled materials to be separated and utilised for reuse purposes. Keeping recyclables out of landfill is always prioritised when using a rubbish removal service.
How We Do It
Our team at 1300 Rubbish will thoroughly and efficiently remove and dispose of all types of builders' rubbish. We will load, transport and dispose of all rubbish items from construction work that are produced from the restoration of a house or an office. We will also do a thorough sweep of the area to ensure that every bit of builders' rubbish is handled and taken care of.
To get a free and non-obligation quote, just dial 1300 Rubbish (1300 78 22 47) and we'll be glad to attend to all your queries. You can also leave your contact details by using our online form.
Call An Expert
With 1300Rubbish, you never have to worry again about your accumulated construction rubbish. Start getting in touch now with our team by dialling 1300 78 22 47 and talk to our friendly customer service personnel. We provide professional and reliable construction rubbish removal services for builders' waste in Melbourne and in other major cities in Australia.
We can remove and clear off all types of construction or builders' waste. Some of the builders' waste items that we can handle include concrete, timber, wood, paint cans, metals, soil, glass, rubbles, bricks, bathroom disposals, kitchen disposals, roofing tiles or sheets, plasterboards and other hardcore rubbish materials on the site. You can depend on our friendly and professional truck team when it comes to collecting and handling builders' waste while adhering to rules on safety and environmental protection. We don't just collect and dispose of your builders' waste, we also make sure that the premises are kept clean and free from traces of rubbish.
Builders Waste Rubbish Removal FAQ
Are You Open 24 Hours?
Yes, you can call us anytime, any day to organise fast and friendly commercial rubbish removal.
How Much Will It Cost to Remove My Builders Waste Rubbish?
We have no fixed prices for our rubbish removal jobs. Instead, we offer a free estimate in which you place your waste enquiries. Contact us today for your free quote.
Do You Recycle Waste?
We take our rubbish removal service seriously. We ensure that all of our products are recycled and disposed of in the most environmentally friendly manner. For construction waste and builders debris, we always ensure all waste is checked for recyclables and then taken to the nearest recycling facility to be properly processed.
Excellent
4.9
★
★
★
★
★
Based on 724 reviews from
Brooke Cherie
★★★★★
Very happy with the service from booking to collection. Staff are friendly and professional. I would definitely recommend and I will absolutely call in the future for more collection services.
Jane Lovell
★★★★★
Quick service, friendly team, and job done.
Lisa
★★★★★
Professional, punctual and great job
Lari
★★★★★
Great experience, crew were friendly, efficient and great at what they do. Customer service was also amazing. Was by far the most reasonable quote I recieved and they went above and beyond for the job. I offered to help but they were happy to do everything themselves. Highly recommend!