Comprehensive Rubbish Removal Services
We take the stress out of your next rubbish clean-out. Our removal experts in Brisbane tackle any waste collection job with a comprehensive range of rubbish removal services for any workplace, home or construction site.
Once all of your rubbish is removed, we will clean and sweep the space so it's left entirely ready for you to enjoy. Not only does this mean you can use the space right away, but it ensures a safe environment for you and your family.
Our most popular services include:
Household rubbish can often build up and clutter homes, which causes lots of stress and hassle for busy individuals. At 1300Rubbish, we are pros at household rubbish removal and disposal of residential items such as old furniture, appliances, e-waste, white goods like washing machines, general clutter, garden waste and green waste.
Whether your Brisbane business is getting new furniture, or you're about to undertake an office clear-out, 1300 Rubbish can assist with the job. We can remove office furniture, desks, chairs as well as kitchen appliances can all be taken care of with our rubbish removal service.
The hassle of rubbish removal in a commercial can be left up to us, with efficiency and speed being our top priorities!
Construction rubbish removal can be a serious job that requires professionals. Our team are experts in responsible construction waste removal and disposal. This means that your construction site can be safe and ready to use again without any risk of injury from leftover demolition and construction waste.
Whether it's brick debris, steel or concrete on a building site, our responsible team can save your business time and effort.
We come right to the rubbish, removing it from the rooms or areas it is in, so you don't have to lift a finger.
Responsible & Environmental Disposal
Our team understands waste collection and the importance of sustainability when disposing of rubbish. Whether it's scrap metal, furniture, office rubbish or general household waste, you can rest assured that our team members relay your rubbish to the correct processing facilities to either dismantle, recycle or dispose of it correctly.
We take the ethically and environmentally friendly approach to the rubbish removal and disposal of e-waste, plastics and cabling seriously and ensure the eco-friendly disposal of all waste possible. This means that your unwanted or unused items can be repurposed and recycled accordingly. A professional team and ethical rubbish disposal also reduce your impact on the environment and can prevent fines or penalties for improper rubbish disposal.
Levi Gerard
1700703560
They're great and got back to me with a quote fast.I paid them to get rid of a disgusting old mattress from a previous tenant and they got rid of it without fuss.Way easier than hiring a ute and

...

doing it myself. Nice people too.Would definitely use their services again.

read more
Sally Steele
1698978505
Top service from booking until delivery. Such lovely service and nothing was a bother to the driver. Tnx Highly recommend
Gwenneth Gracie
1695882982
I highly recommend this company. I contacted 1300rubbish via their website. Within an hour Patrick contacted me. We arranged a day and time that suited me for some furniture to be removed. Patrick

...

gave me a quote which was very reasonable.On the Tuesday arranged, Lucas and Chris arrived at my home in the time slot given travelling from Brisbane to the Sunshine Coast. They were so professional, friendly, got on with the removal of the furniture, including a heavy couch which they had to carry down stairs and which they did easily, with a smile. Nothing was too much trouble. They made it easy for me :)Thank you Patrick, Lucas and Chris. I was/am very grateful for all your help.I will definitely let people know about 1300Rubbish. Laurie G

read more
Michelle jude
1692694524
Great customer service , the job was done within an hour ,. I will definitely recommend 😊
le tran
1692335163
Great service!
Malcolm Sharp
1692237526
Rang the request and collected same day
Brisbane Areas We Service
Within our Brisbane rubbish removal services, we include not only the Brisbane CBD but areas in Queensland such as the Gold Coast, Logan, Bayside, Camp Hill and Toowong. On a typical day, we'll collect unwanted furniture in Hamilton, do some garden rubbish and green waste removal in Newstead, get some rubbish collection done in Bulimba and do some waste disposal in Morningside. We pick up the rubbish where it lies!
When you see our red trucks on the road around Brisbane – give us a wave, we're the friendliest Brisbanites you'll meet. We can get to you on the same day, and our team of professional drivers will call you 15-30 minutes before they arrive with confirmation of the cost. There are even guarantees for a 7 am rubbish removal booking slot, so you can have your rubbish removed before work.
If you need a Brisbane rubbish removal service, we are here for your every need. Contact us today for a quick, obligation-free quote!
Do We Service Your Postcode?
Check here:
Our Trusted Rubbish Removal Process
Our experienced team is highly trained in the steps of our simple, effective and professional service. We value efficiency, honesty and kindness to people and the planet, so we can guarantee an open, friendly chat, an effective job and minimal environmental impact.
Honesty is also big for us, so that's why we're completely transparent with our pricing: register for a quote online, and we'll guarantee the best price. The steps to clear space with 1300 Rubbish are simple:
Call our friendly team or fill in the quick online form and we'll give you an obligation-free estimate of how much your job will cost
Choose a time that works best for you.
Our team will call 20-30 minutes before arrival to re-confirm the cost before they start the job.
Once we've loaded up the truck with any waste you want removed, and completed a thorough sweep-up, we'll dispose of the waste in the most sustainable way possible: recycling and composting wherever we can.
Trusted Rubbish Removals Brisbane
With more than 25 years of experience, our family-owned Australian company takes pride in how we help our clients. This long history has also taught us the need to ensure our service can be adapted to the individual or commercial rubbish removal needs of our clients in Brisbane. This means that we can offer same-day service for most jobs in Brisbane, and we consider no rubbish removal job too big, or too small.
Our friendly, dedicated and multi-faceted teams are able to assist with simple rubbish removals, the physical removal process involving tasks like removing carpets, doors and more, as well as the final clean-up after the removal process is complete.
We believe in quality service above everything else. That's why our rubbish removals Brisbane is full-service and completed by experienced, punctual and driven removal crews who make sure our service is second to none. We are upfront with our affordable prices, as we offer direct quotes for Brisbane areas and ensure the cost is reflective of the work to be done.
If you believe the pricing is perfect for you, let us know and we'll begin right away.
We don't want any of our customers to experience bill shock. This is why our pricing is always upfront and honest. For an accurate cost of your rubbish removal (Brisbane), please fill out our enquiry form for a free quote or call us today!
We remove the need for skip bin hire or going through council approval processes for rubbish collection. All of our collection services take into account city regulations and environmentally friendly disposal requirements.
Our Brisbane team offers a hands-on approach to rubbish removal designed specifically for those who do not want the hassle or physically cannot lift and load these items into their own vehicles to dispose of. Once the major removal is completed, the cleanup process is undertaken to ensure all clutter and leftover objects are also removed, so the area is ready to be used or repurposed immediately.
Book in Today
Fill out our contact form, or simply call us, we are available 24/7.
Once you have organised a day and time that suits you, our rubbish removalists will remove all your rubbish. We do all the heavy lifting and even help with the detachment of drawers and cabinets from their fixtures or walls. It's the easiest and quickest waste removal service!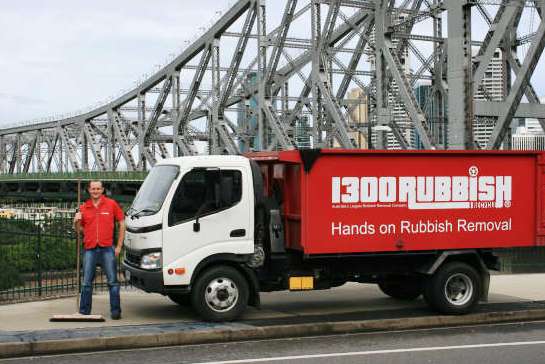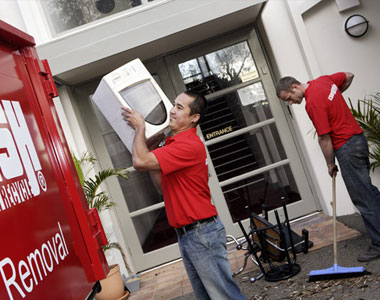 Frequently Asked Questions
How quickly can we pick up your rubbish?
We are able to offer same day rubbish removal for many of our customers. How quickly we can pick up a load of rubbish will depend on many things such as the size of the job, its location and seasonality. Call us today for a free quote to find out.
What areas around Brisbane do you service?
We service the entirety of Brisbane and some areas in the entirety of Queensland. We can remove rubbish in the Gold Coast, Logan, Bayside, Camp Hill and Toowong.
Whether you're just cleaning up around home, or you need an entire job site cleared, we have the team and truck for you.
What services do we offer?
We offer a whole range of services in the
residential
, 
commercial
 and 
construction 
space. Whether you're just cleaning up around home, or you need an entire job site cleared, we have the team and truck for you.
Can I get a free quote?
Excellent
4.9
★
★
★
★
★
Based on 724 reviews from
Brooke Cherie
★★★★★
Very happy with the service from booking to collection. Staff are friendly and professional. I would definitely recommend and I will absolutely call in the future for more collection services.
Jane Lovell
★★★★★
Quick service, friendly team, and job done.
Lisa
★★★★★
Professional, punctual and great job
Lari
★★★★★
Great experience, crew were friendly, efficient and great at what they do. Customer service was also amazing. Was by far the most reasonable quote I recieved and they went above and beyond for the job. I offered to help but they were happy to do everything themselves. Highly recommend!