WE'RE STILL OPEN!
Our Essential Service remains open for business.
A no-fuss waste removal service will allow you to enjoy your weekends instead of messing around with unwanted junk. No one wants the overwhelming feeling of an untidy, cluttered house or workplace, so it is time to do something about it. Regain your space, and take back control. 1300 Rubbish are always ready to assist you with your rubbish removal needs in Brisbane, and as a 100% Australian owned company with over 25 years experience in the waste industry, we are confident in doing all the dirty work for you.
1300 Rubbish has been keeping Brisbane free from unwanted waste for over 25 years. Comprehensive rubbish removal services for homes, businesses, construction sites and industrial companies in Brisbane.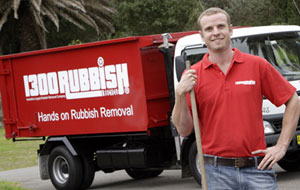 From Houses to Apartments – nothing is too much trouble. We remove your unwanted junk, rubbish, furniture & even fittings and carpet from where you tell us to.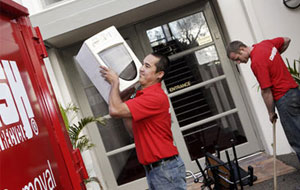 Be it Offices, Warehouses or Retail – we have you covered. We'll remove anything, from obsolete stock, IT or furniture and cubicles or even whole strip outs.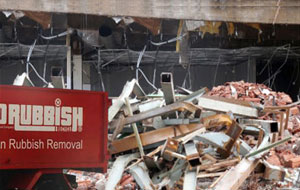 Reliable and Fast, we clean out any building or demolition site of rubbish and waste or even strip out fixtures and carpet – for a safer and more productive work site.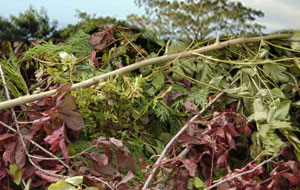 Green waste is anything from shrub and bush clippings, leaves, garden waste and lawn cuttings to cut-up tree trunks. We'll pick it up where it lies and dispose of it for you.
Our Rubbish Removal Services
Those looking for an affordable, efficient rubbish removal service in Brisbane can look no further than our team. We cater to all suburbs across Queensland including the city, suburbs and outer suburbs. Services for general rubbish removal, hoarding cleanups and commercial rubbish collection in Brisbane are all covered by us.
General Rubbish removal will include anything non-recyclable, such as food and kitchen scraps, hygiene waste and ceramics. Hoarding is a more generic term of holding onto items one does not need. These household rubbish items may include spare furniture like mattresses and bed frames, built-up garden waste, junk clutter such as bottles and packaging, or old computer and electronic appliances. Whitegoods such as fridges, dishwashers and washing machines can also be taken care of efficiently, to save you the hassle.
Additionally, Commercial Rubbish within the business area can also be removed which is common when companies change offices or renovate, in which they make room for new equipment. Ranging from furniture, office supplies and storage cabinets, commercial waste is a broad category of rubbish typically produced by businesses.
We know it's difficult to find a dependable service, so we've refined our services tirelessly to ensure all of our customer experience the most thorough rubbish collection from collection to the final tidy up. All of our collection services take into account city regulations and environmentally friendly disposal requirements. We partner with processing facilities across Brisbane to deal with recycling, dismantling of products and the safe disposal of chemicals and more.
Our Brisbane team offer a hands-on approach to rubbish removal designed specifically for those who do not want the hassle or physically cannot lift and load these items into their own vehicles to dispose of. With trucks and removal technology, our services can make the waste removal process easy, fast and environmentally thoughtful. Once the major removal is completed, the cleanup process is undertaken to ensure all clutter and leftover objects are also removed, so the area is ready to be used or repurposed immediately.
We don't want any of our customers to experience bill shock. Our expertise and equipment mean we are able to assist in the removal of countless items ranging from:
DO YOU SERVICE MY AREA?
We have Brisbane rubbish removal covered, including areas in Queensland such as the Gold Coast, Logan, Bayside, Camp Hill and Toowong.
Do We Service Your Postcode?
Check here:
Responsibly Disposed
Here at 1300Rubbish, we have a high dedication to responsible waste management as part of our business foundation. During every rubbish collection in Brisbane, we ensure thorough separation of items by material or category. This allows the rubbish to be recycled or disposed of appropriately.
All materials that feature disposal regulations, like hazardous materials, recyclables and steel are all transferred to the nearest Brisbane-based processing facility for the correct treatment or recycling. Hazardous materials like cleaning agents, batteries, gas cylinders, pool chemicals and fertilisers will be correctly removed and safely transported to our facility and then on to a chemical and hazardous disposal facility. Having your personal safety in mind as well as consideration for our planet is essential to our services.
Capable Team
With more than 25 years experience, our family-owned Australian company takes pride in how we help our clients. This long history has also taught us the need to ensure our service can be adapted to the individual or commercial rubbish removal needs of our clients in Brisbane. We're proud of our service and there is no rubbish removal job too big, or too small.
We work alongside companies in industrial, commercial and retail as well as residential homeowners who need assistance cleaning and throwing away rubbish before a sale or other reasons. Our friendly, dedicated and multi-faceted teams are able to assist with simple rubbish removal, the physical removal process involving tasks like removing carpets, doors and more, as well as the final clean up after the removal process is complete.
We believe in a quality service above everything else. That's why our Brisbane rubbish collection is full-service and completed by experienced, punctual and driven removal crews who make sure our service is second to none. We are upfront with our affordable prices, as we offer direct quotes for Brisbane areas and ensure the cost is reflective of the work to be done. If you believe the pricing is perfect for you, let us know and we'll begin right away.
Brisbane Areas We Service
We have Brisbane rubbish removal covered, including areas in Queensland such as the Gold Coast, Logan, Bayside, Camp Hill and Toowong. On a typical day, we'll collect unwanted furniture in Hamilton, do some green waste removal in Newstead, get some rubbish collection done in Bulimba and some waste disposal in Morningside. We pick up the rubbish where it lies!
When you see our red trucks on the road around Brisbane – give us a wave, we're the friendliest Brisbanites you'll meet. We can get to you on the same day, and our team of professional drivers will call you 15-30 minutes before they arrive with confirmation of the cost. There are even guarantees for a 7 am rubbish removal booking slot, so you can have your rubbish removed before work.
If you need a Brisbane rubbish removal service, we are here for your every need. Contact us today on 1300 78 22 47 for a quick, obligation free quote!