What is Green Waste?
Green waste specifically refers to the plant matter that builds up in our gardens, and that we could do without. This includes:
Tree stumps and logs
Soil and turf
Vegetable trimmings and vines
Grass and flower cuttings
Hedge trimmings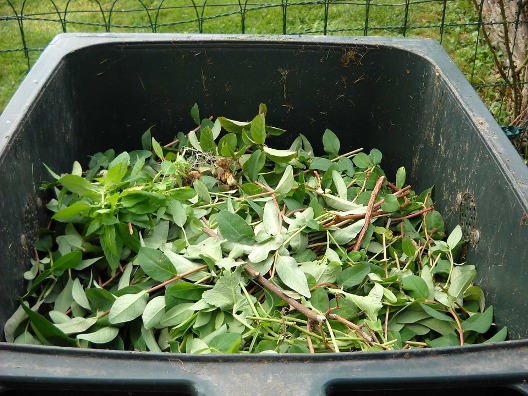 The disposal of green waste is a difficult art: adding plant matter to landfill can impact the decomposition process, leading to excessive production of methane. As well as producing a very unpleasant smell, this greenhouse gas is understood to be one of the leading causes of global warming. At 1300Rubbish, we work according to our values, and that involves looking after our environment as well as your garden – environmentally responsible disposal is a non-negotiable part of our process.
Garden waste as a broader term refers not only to plant matter, but to the other types of rubbish that our gardens seem to fill with, including:
Building materials left after renovations
Debris from landscaping work
Plant pots
Fencing materials
Garden furniture
Our Garden Waste Removal Process
Our experienced team are highly trained in the process of garden waste removal as well as in our principals. We value efficiency, honesty and kindness to people and planet, so we can guarantee an open, friendly chat, an effective job and minimal environmental impact. Honesty is also big for us, so that's why we're completely transparent with our pricing: register for a quote online, and we'll guarantee the best price. The steps to a clear garden with 1300Rubbish are simple:
Call our friendly team or fill in the quick online form and we'll give you an obligation-free estimate of how much your job will cost
Choose a time that works for you.
Our team will call 20-30 minutes before they arrive, and will re-confirm the cost before they start the job.
Once we've loaded up the truck with any waste you want removed, and completed a thorough sweep-up, we'll dispose of the waste in the most environmentally friendly way possible: recycling and composting wherever we can.
With over 25 years of experience, we're waiting by the phone to help you reclaim your space. If you're ready to get your garden back, call 1300Rubbish today.
Excellent
4.9
★
★
★
★
★
Based on 724 reviews from
Brooke Cherie
★★★★★
Very happy with the service from booking to collection. Staff are friendly and professional. I would definitely recommend and I will absolutely call in the future for more collection services.
Jane Lovell
★★★★★
Quick service, friendly team, and job done.
Lisa
★★★★★
Professional, punctual and great job
Lari
★★★★★
Great experience, crew were friendly, efficient and great at what they do. Customer service was also amazing. Was by far the most reasonable quote I recieved and they went above and beyond for the job. I offered to help but they were happy to do everything themselves. Highly recommend!