We're considered to be the most comprehensive, affordable and efficient rubbish removal service in Perth. From businesses and homes to construction sites, our rubbish collection is unparalleled! No matter the size or location in Perth, we've got you covered.
With a team based in Perth, we know the city well, meaning that finding appropriate and environmentally friendly processing facilities is as easy as pie for us! And, of course, we always make sure to be compliant with Perth's waste disposal regulations.
Our service
Choosing our services means that all of your items and waste materials will be disposed of correctly and recycled or dismantled or reused when possible. We can collect and dispose of a number of junk, garbage and rubbish items including:
Electronic waste (e-waste)
Recyclables
Hazardous waste
Construction debris
Our services extend across the entire city of Perth including the far north suburbs of Joondalup and Wanneroo and far south suburbs of Baldivis and Meadow Springs.
What we do
All of our waste collection services are designed around making sure our customers don't have to lift a finger. Our experienced team members do all the heavy lifting and moving of your rubbish and unused furniture or products, as well as the final tidy-up. You'll have a clutter-free space that's clean and tidy without needing to do a thing!
Part of the service is the final cleanup of your space and the ethical and environmentally friendly disposal of your rubbish and waste products. We always make sure that our rubbish removal and disposal is done in the most environmentally friendly way to keep as much junk as possible out of landfill.
Removal services
Household garbage can often build up and take over your home, creating unwanted stress. Luckily, we're pros at residential and household rubbish removal, with items such as furniture, appliances, e-waste, white goods, general clutter and even garden waste easily removed and disposed of for your convenience.
Whether you're a store, restaurant or office space in Perth, 1300 Rubbish has got you covered! Furniture removal, like old office chairs, desks or kitchen appliances can be taken care of easily with our commercial rubbish removal service.
Construction rubbish removal can be a serious and frustrating job! This kind of waste disposal requires professionals, and at 1300 Rubbish, we're all experts in responsible construction waste disposal. Whether it's brick rubble, sheet metal, steel or concrete on a building site, our friendly team can save your business time and effort.
The best part is, we come right to the rubbish. Whether it needs to be removed from indoor rooms on a construction site or it's a big pile of debris, you won't have to lift a finger.
The benefits:
Experienced and professional
We take the quality of our services very seriously, and all of our Perth rubbish removal team members are friendly, professional and prompt.
Our cleanup and removal process is constantly being refined to keep up with new recycling processes and government regulations. This means we are able to assist no matter how complex or large your rubbish removal project is. And when we're finished, we do the tidy-up so you don't have to.
Transparent pricing
Simplicity and peace of mind are at the forefront of our services. Our pricing is also easy to understand and transparent in nature, giving our Perth customers a solid idea of the cost of our services. If you're good to go with our rates, then let us know when to begin.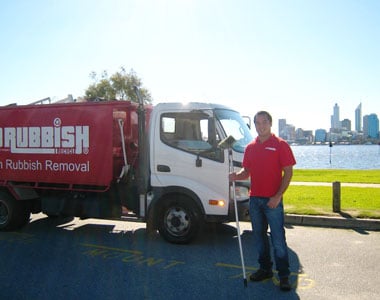 DO YOU SERVICE MY AREA?
Our services extend across the entire city of Perth including the far north suburbs of Joondalup and Wanneroo and far south suburbs of Baldivis and Meadow Springs.
Do We Service Your Postcode?
Check here:
Our expert Perth rubbish removal team and quality equipment mean we are able to assist in the removal of countless items ranging from:
Safely disposed
There are a number of laws in place in Perth that regulate the disposal of a number of different materials from computers, hazardous materials, chemicals and unused building materials. We make sure that we follow all of these regulations so our customers aren't hit with penalties or fines.
During the collection of your household, commercial or industrial rubbish our team makes sure to separate and organise it in a way that makes it easier to recycle and transfer to other facilities to process. A great example of our disposal process is choosing to work with the resource recovery centre in Canning Vale to dispose of hazardous chemicals, cleaning products and recyclable plastics and steel.
Specifically, when hazardous chemicals are concerned, our team makes sure to give these materials to Perth's privately owned and government-funded chemical disposers.
Capable Team
After working in waste and rubbish collection for many years, our crew members are more than capable of physically removing clutter and rubbish. From bricks and concrete to bulky items and office waste, our team is capable of taking on any amount of junk!
Our team's mission has always been to provide the most comprehensive and thorough waste removal services for our customers in Perth. It is our ultimate goal to leave a space completely clean and ready for our customers to use.
Book in Today
Fill out our contact form, or simply call us, we are available 24/7.
Once you have organised a day and time that suits you, our rubbish removalists will remove all your rubbish. We do all the heavy lifting and can even help with the detachment of drawers and cabinets from their fixtures or walls. It's the easiest and quickest waste disposal service!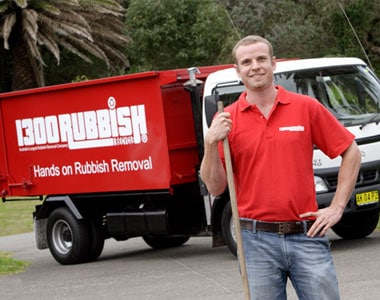 Frequently Asked Questions
How quickly can we pick up your rubbish?
We are able to offer same-day waste removal for many of our customers. How quickly we can pick up a load of rubbish will depend on many things such as the size of the job, its location and seasonality. Call us today for a free quote to find out.
What areas around Perth do you service?
We can remove rubbish from anywhere within the city of Perth including the far north suburbs of Joondalup and Wanneroo and far south suburbs of Baldivis and Meadow Springs.
What services do we offer?
We offer a whole range of services in the residential, commercial and construction space. Whether you're just cleaning up around the home, or you need an entire job site cleared, we have the team and truck for you.
Can I get a free quote?
Excellent
4.9
★
★
★
★
★
Based on 724 reviews from
Brooke Cherie
★★★★★
Very happy with the service from booking to collection. Staff are friendly and professional. I would definitely recommend and I will absolutely call in the future for more collection services.
Jane Lovell
★★★★★
Quick service, friendly team, and job done.
Lisa
★★★★★
Professional, punctual and great job
Lari
★★★★★
Great experience, crew were friendly, efficient and great at what they do. Customer service was also amazing. Was by far the most reasonable quote I recieved and they went above and beyond for the job. I offered to help but they were happy to do everything themselves. Highly recommend!