Electronics are made from materials like metals, plastics, and glass. These materials are manufactured and mined, making their process of creation, use and disposal more complex than one might think. Toxic materials are often found after the combination of raw materials when electronics are made. When disposed of, these electrical items can have negative impacts to the environment – and consequently, human health.
Because of this threat of harm by toxic substances, sustainable e-waste disposal is of utmost importance. Especially in the current technological age, individuals have countless electronic products that can contribute to e-waste.
Want to learn more about how to sustainably get rid of broken electronics? This article will give you the full run down with what you need to know.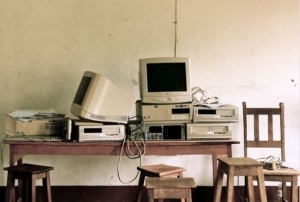 What Is E-Waste?
New technology replacing old electronics is common – how often do you upgrade your phone? What do you do with your old phone? Does it sit in a drawer or can you dispose of it safely?
E-Waste, also known as electronic waste, refers to old electronic equipment that is no longer in use or able to be used. Technology is not made to last forever, and as such needs to be disposed of eventually.
E-Waste has become a huge problem because of the excessive amounts of technology being produced, especially when they are being replaced by electronics that are still viable.
E-Waste includes electronic items such as:
Mobile phones
Computers
Computer equipment
Printers
Cameras
DVD players
Batteries
Hard drive
Television
Small appliances
Old computers in particular generate a lot of landfill. This is dangerous, especially because older models were likely made with heavy metals like lead and toxic chemicals that can pollute soil and contaminate groundwater when dumped at waste sites.
Selling, Auctioning Or Repurposing
One of the best ways to dispose of your old electronics sustainably is to sell, auction, or repurpose your devices.
Selling second hand has become increasingly easy, especially with online avenues like Facebook Marketplace, Gumtree, and local buy and sell pages.
You can sell your devices if they are still viable, otherwise, selling the devices for their parts is another option to consider.
If you are an electronics expert, you could disassemble the electronics yourself and sell the parts separately. Otherwise, selling it as a whole is the easiest way to go.
If your devices are still in good condition, consider getting them repaired before selling. Also taking steps to maximise the lifespan of the technology is important – like not overdoing the battery life, keeping the electronic equipment tidy and clean, and taking care of handling it.
Selling Valuable Materials
Before you get rid of your electronics, take a look at what you are getting rid of!
Some pieces of technology and electronic equipment contain valuable materials that can be worth a lot of money. Often, larger devices that contain more volume of materials can accumulate value – despite the condition of the base product.
Scrap metal in particular is a great material to sell, especially for devices and appliances that would not ordinarily come straight to mind, like refrigerators, washing machines, and dryers.
Metals that can add some cash to your wallet includes:
Copper
Brass
Stainless steel
Aluminium
White Goods Trading
Selling and trading white goods is a great way to get unwanted devices off your hands.
White goods refers to larger household appliances like washing machines, microwaves, cookers, fridges, freezers, and dryers.
There are plenty of interested individuals who can repurpose your broken white goods, whether to repair them to sell second hand, or to gather other parts and materials.
You can list your white goods items online to get rid of, and also some local councils offer white goods clean ups.
What Can You Do With Old Mobile Phones?
If your old mobile phone is still in working condition, you could sell it second hand or pass it down to a family member who needs it.
If your phone is not in the best condition but still viable, you could take it to a mobile phone recycling station for it to be repurposed and disposed of sustainably.
Many phone retailers offer a buy back option, where they buy back your old phone model in exchange for credit to use on an upgraded model.
These initiatives are resourceful because the devices are going straight back to the manufacturer to be repurposed effectively
E-Waste Recycling Stations
Local councils offer regular recycling collection events. You need to make sure the devices are acceptable for electronic recycling, and follow all of the recommended steps. Besides local council events, there are other council-initiated recycling stations set up for smaller electronic waste goods (like mobile phones and batteries) rather than larger appliances.
Other than council regulated stations, other recycling stations exist and some will offer cash rewards for using their services.
Officeworks are also known for their convenient e-waste recycling stations, perfect for when you need to get rid of something small on the go.
Return The Product To The Manufacturer
Returning the product to the manufacturer is one of the easiest ways to get rid of electronic waste. Many manufacturers offer buy back or trade in options, acting as an incentive for responsible recycling and sustainable practices. You can search the brand name alongside 'trade in' and accessible options should show.
Why You Should Consider Disposing Of Your Electronic Waste Sustainably
You should consider sustainable disposal of electronic waste because of the harmful impacts it has on the environment, and in turn, on us as well. The toxic chemicals and harmful materials released from unsustainable disposal can lead to various health issues for the land and our bodies.
As developing countries are the highest users of electronic devices and accessories, we should lead by example and be a responsible recycler. The electronics saved from landfill can be used, as their raw materials can be reused for other purposes.
Think twice before putting broken or old electronics in the red bin, there are plenty of other options to use first!
Professional E-Waste Disposal Specialists
1300 Rubbish offer professional e-waste disposal services. They have responsible recycling practices with various drop off locations around Australia. For e-waste or general waste removal, contact 1300 Rubbish today.