Do you have an excess amount of green waste in your backyard? If you are struggling with green waste removal, then look no further than this how-to guide. We include highly recommended DIY methods to efficiently reduce, reuse, and recycle your garden waste before considering waste disposal.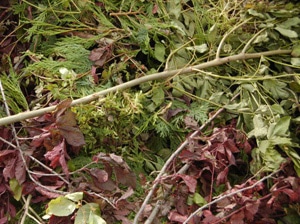 What is Garden Waste?
Garden waste, also known as green waste, refers to organic matter produced by a garden. The interchangeable name comes from the green colour of the garden, differentiating this waste from brown garden waste. Brown garden waste includes dirt, soil, rocks, and the like, which cannot usually be included in green waste removal.
Why Is Proper Garden Waste Removal Important
Garden waste removal is important because organic waste cannot be mixed with general waste.
To add to this, organic waste needs to be separated to ensure that only correct green waste is being included in the disposal.
Keeping organic waste out of landfill and participating in the eco-friendly movement is beneficial for the regeneration of land, and keeps not only your garden healthy but also minimises the risks to the overall environment we live in.
When incorrect things are grouped in removal, this can render the entire waste removal unsustainable and cause issues.
When garden waste is included in regular rubbish removal, the contamination resulting from this leads to all of the rubbish being disposed of in landfills rather than their appropriate waste collection.
If organic waste is transferred to landfill, greenhouse gases (i.e. methane) are almost always created during the disposal process. This has a significant impact on the environment, especially if it is occurring frequently.
To minimise these effects and to contribute to sustainable and efficient eco-friendly green waste disposal, follow our DIY tips to keep waste collection minimal.
How To Dispose of Green Waste
There are a few ways you can dispose of green waste. Green waste removal can start in your own backyard, as an afternoon garden job.
Green Waste Bins
Green waste bins are the most straightforward answer to disposal of green waste. However, it can be a bit more complicated than you think.
Not everything in your garden is considered green waste. As mentioned before, brown garden waste can't be included in the green waste bins for disposal.
So, what can be included?
What Can I Put In Green Waste Bins?
Generally, biodegradable waste and waste from your garden in the shade of green are included in green waste bins.
The following things can be included in green waste bins:
Plants
Flowers
Tree branches
Lawn clippings
Shrubs
Grass
Grass clippings
Weeds
Plant matter
Flower cuttings
Hedge trimmings
Fruit scraps
Vegetable scraps
Tree stumps and large branches are not usually included in green waste removal, these need to be collected and disposed of separately. Services are available to collect unwanted waste from your yard.
Large Garden Waste Removal
If you have an excessive amount of garden waste, you may need to consider options other than your trusty green bin.
Green Bins and Bags
You can purchase green bins and bags for your garden that can be disposed of in your regular green waste bin collection. You can fill these large bags as they easily store your garden waste until you are able to have someone collect green waste, or transport to a disposal unit yourself.
If you have a green bin or green bag you need to make sure only the correct items are being disposed of.
The following items are strictly prohibited from garden bin and garden bag waste removal:
Animal waste
Mulch
Non-organic food
Soil
Stones
Rocks
Large branches
Compost
Tree stumps
Plastic
Paper
Cardboard
Metal
Rubbish
Anything else not listed in the inclusions list above
Green bins and green bags can be hired to get rid of garden waste you might not be able to fit into your own green bins. If you have excess garden waste, consider contacting a same day service provider to remove your garden waste.
Professional Removalists
You may need to hire a junk rubbish skip bin if you cannot safely dispose of the waste from your garden in a designated green bin.
1300 Rubbish provides services for waste removal and disposal. They can take care of all the heavy lifting, provide great service, and offer the best price for green waste pickup that might not be able to go in a proper garden waste bin.
DIY Green Waste
DIY green waste is a popular option for people who want to do the job on their own. DIY green waste includes not only the removal and disposal of waste, but also minimising waste so you do not have to remove as much later on down the track.
Compost
Compost is a fantastic way to manage garden waste. Composting is beneficial to the environment and is a popular option for people with large backyards, or spacial capacity to undertake this process.
Composting is a natural process to recycle green waste into fertiliser for plants and soil. Compost provides the best conditions for microorganisms to flourish, making it great for your garden's livelihood.
Composting involves organic waste, moisture, oxygen, and bacteria.
Garden Bins
Setting up garden bins is a good idea, especially when you know you will have a fair bit of green waste down the line. Taking preemptive measures can help you in the future with the green waste that will accumulate.
Having a garden bin set up and ready to go makes managing your green waste less stressful, and takes the hassle away from potentially having a mountain of biowaste and nowhere to put it.
Garden Bags
Similarly to garden bins, having garden bags is a great tool to utilise when you know you might be producing more green waste than usual.
Reducing Garden Waste
One of the best initiatives you can undertake is reducing your garden waste. This solution is a direct response to the issue of garden waste itself. If there is less garden waste, then your need for green waste removal will be lowered – or perhaps gone completely!
Lawn Care
Lawn care is overlooked and underrated. This is mostly due to people not knowing how to tend to their lawns correctly.
When a lawn is properly looked after, there will be less green waste. If you have natural grass, you should keep your lawn to an ideal length so you are not doing large trims in one go.
Low-Care Plants
Having low-care plants or plants that are easy to maintain is one of the best ways to reduce your garden waste. The less trimmings and clippings, the better!
Succulents, slow-growing shrubs, and native plants are all great options that require either no pruning, or a small amount of pruning.
Composting
Our favourite DIY tip, composting! Having a compost is great for your garden and the environment.
When building a compost, you should have it in an area that is dry and shaded, with a covering to protect it from harsh weather conditions.
Unfortunately not everyone can compost due to space constraints, you need a solid amount of area for the compost to be placed in your garden. If you have the means, then consider adding one to your yard. Your green bin will thank you for it later!
If you need green waste collection or a green waste removal service, contact 1300 Rubbish to help your garden be as fresh as can be.