As our access to cheap and consumable products in the business world is ever-expanding, so too is the amount of commercial rubbish we must manage every year. Due to the number of different materials and processes that this can involve, we've compiled 6 tips for you to effectively manage your commercial waste.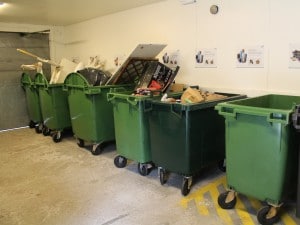 How to effectively manage your commercial waste:
Create A Waste Management Team
Track And Address Your Business Through A Waste Management Program
Address Your Budget and Commercial Waste Removal Costs
Reduce, Reuse And Recycle In House
Use Waste And Recycling Services
Encourage Your Team To Get Involved
What Is Commercial Waste?
Commercial waste is waste produced by businesses and trades, usually from activities such as renovations and re-fittings. Ranging from furniture, office supplies to storage cabinets and appliances, commercial waste is apparent in nearly all businesses.
Personal removal of commercial rubbish is an extremely time-consuming task, leading to the need for a smoother, easier, and more convenient process. A high-quality waste removal service like 1300 Rubbish can assist you with their removalist expertise formed over 25 years of service.
Waste Management Benefits
There are several benefits from managing your commercial waste, including:
Save more money and increase profits
Increased sustainability and lessen your environmental impact
A more organised and efficient workplace
Conserve natural resources
Reduce emissions of greenhouse gases
Gain knowledge on how to better your business
1. Create A Waste Management Team
Starting what can be a daunting task is always easier in a team, especially when it comes to the workplace. The most important step you need to take to manage commercial waste is to assemble a waste management team. Their main goal should be to analyse which parts of your waste management process could be improved and then set S.M.A.R.T goals to capitalise on those opportunities. Focus on constructing a team with members from different areas of your business with a wide range of skills for the best results.
2. Track And Address Your Business Through A Waste Management Program
Refining and honing in on your waste management plans is the best way to ensure your meet your goals. As one of the main benefits of managing your waste is maximising profits, it's beneficial to understand where your waste is going and what is being chucked away as there may be an opportunity to change practices and save money.
Reviewing the current outcomes of your waste management plan will provide insight into areas where you may be overusing certain materials or items as well as where you may be able to get by safely with less. This is usually found when you carefully analyse the business's internal processes, allowing you to see exactly where you are wasting materials.
Removing junk by material or style in separate bins is another great way to reduce your business's impact on the environment while also creating an opportunity to reuse and recycle waste materials. This can be done through the implementation of recycling bins and commercial waste bins. From this the business can then measure which items are most likely to end up in landfills as well as which processes are the main contributors, allowing the owner to save money and time.
3. Address Your Budget and Commercial Waste Removal Costs
Analysing your business's books can be a great way to find places in which you are over-spending and consuming. This can then lead to opportunities to manage and reduce commercial waste.
Many businesses are still using archaic waste management systems when more cost-effective and efficient alternatives have been brought to market. Lowering these fees can be a great way to encourage support from management when trying to make your company sustainable and more efficient.
Although its often better to focus on increasing revenue, lowering costs can be one of the better ways to encourage getting commercial waste under control. Reducing waste can be made a lot easier by implementing a process known as the Waste Hierarchy. This focuses on encouraging repurposing, recycling, and reusing products rather than discarding them.
4. Reduce, Reuse And Recycle In House
Reducing overall waste is the best way to see a positive impact from your efforts. This is now made much easier because you are tracking waste. Limiting the need to remove waste will also decrease costs and increase profits.
Some of the easiest ways to do this are:
Reuse valuable materials
Recycle usable goods
Go paperless
Reduce packaging
Regularly collect E-waste
By lessening the commercial waste your business produces and processing any waste it does in-house, the costs of removal will be significantly minimised.
Consider Using Environmentally Friendly Materials
This process can be made even easier by limiting the number of materials that need to be managed in the first place. Using biodegradable and environmentally friendly materials instead of common office items will significantly decrease waste management costs. This can include Eco-friendly office supplies such as recycled chipboard binders and bio-degradable office furniture including chairs and desks. Further, construction companies and other businesses that typically produce a lot of waste will find value in using green and recycled materials such as green thermal insulation and recycled metal, rather than their synthetic and wasteful alternatives.
5. Use Waste And Recycling Services
The best way to manage waste once it is harming your business is to hire the services of an expert. Local waste management and collection services are growing and so too is the range of waste materials they can dispose of for you. Due to their experience within the industry, many of them can also advise on waste management options you have available to you and how these can be tailored to your needs depending on your type of business and its location. Commercial waste removal services are fast, efficient, and thorough, allowing your business to minimise time spent on waste removal and more on maximising profits!
6. Encourage Your Team To Get Involved
If your business is committed to working on reducing and managing its commercial waste, it's important to get your entire team on board to maximise the project's potential. This can be done by ensuring that all staff understands waste management best practices as well as any new systems via a waste reduction program. It is also important to encourage employees to take advantage of things like the recycling bin and other commercial waste management systems by incentivizing their participation. prizes and leaderboards can help create a waste management culture within your company, allowing you to reduce costs and hazardous waste.
Although the effects of commercial waste are a challenge nearly all businesses face, its impacts can be lessened if the right practices are put in place. If the problem becomes too hard to handle, we offer cost-effective and convenient commercial waste removal services across Australia!