Our houses and workplaces are filled to the brim with white goods. But what are they? White goods are large electrical appliances which are used around the house, such as refrigerators or washing machines. Installing some of these major appliances can be a huge hassle and can be even more troublesome to remove and get rid of once they've passed their use by date.
It can be hard to know whether specific white goods are recyclable or not, and if they aren't, where they can go in an environmentally friendly manner. It might be a good idea to ask a professional rubbish removal specialist like 1300 Rubbish for help in getting rid of your household items responsibly.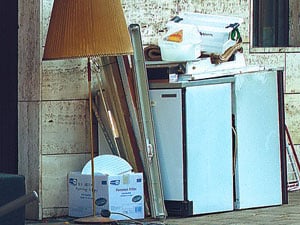 What Are White Goods?
The umbrella term "white goods" refers to the traditional design of household appliances which were typically finished in an enamel coat of white. Despite the wide range of colours and designs available today, the name has well and truly stuck and are known for their relatively long shelf life.
Types of White Goods
If you've ever owned large household appliances like a fridge, washing machine, clothes dryer, air conditioner or water heater you would have owned a form of white goods. However, there are different household items that fall under this category that don't fall under the white enamel banner anymore. They include:
Dishwasher
Clothes dryer
Stoves
Oven
Cooktop
Range-hood
Freezers
Refrigerator
Water heater
Washing machine
Microwave
Air Conditioner
Brown Goods vs. White Goods
White goods also have their electronic counterpart known as brown goods. There are a few stark differences between brown and white goods. While white goods refer to household goods that are traditionally white, the name brown goods get their name from traditional televisions coming with a faux wood cabinet to sit on. Televisions and like electronics would use this imitation wood as a stand to make the electronics appear more desirable as a room's main focal point. Brown goods include items like televisions, DVD players, stereos, and home entertainment systems.
Brown and white goods are also distinguished by their different methods of repair, replacement, disposal and removal as their immediate sectors are separate from each other.  Additionally, brown and white goods should not be lumped together in recycling and removal as they have different impacts on the environment and, if disposed of incorrectly, can contribute to a growing amount of e-waste in landfill.
How To Dispose of White Goods
Recycling Ethically
Homeowners across Australia own more than 45 million appliances. Each year, 2.5 million of these white good appliances are discarded and disposed of, ending up in landfill. The benefits of recycling unwanted white goods include ensuring toxic substances and materials are kept out of the environment, recovering materials such as metal, copper and plastics as well as giving non-renewable resources a new life and reuse.
Fortunately, white goods can be easily repaired or disassembled which means you can recover recyclable materials quite easily if you have the handy know how to remove or repair them yourself. If not, there are definitely options for disposing of your white goods sustainably.
Firstly, you should remove any hazardous materials such as heavy metals, chemicals or gases that may be in the appliance. Once removed, you can split each recyclable material into their own categories so that the white goods can be crushed and shredded for recycling. You can find local recycling services in your area to assist you in ensuring you're doing your bit to protect the environment.
Charity Donations Or Selling Your Old Appliances
If your white good appliances are still in usable condition you could sell them to second-hand dealer shops or a centre for reusable items. Donations to charity are also a great way to reduce the environmental impact of just throwing away small appliances when they could have a new home, however, ensure they still work and are safe to use.
You could also contact a local scrap dealer and deliver your white goods to them for sale. It is important to note that you will need to dispose of the current fluids in each of your items. For example, if your fridge or freezer has coolant it should be drained properly before selling to a dealer. The majority of white goods are quite durable and should last many years before becoming faulty, just ensure that you dispose of them responsibly when they do break or are unusable.
Hiring A Removalist Company
Hiring an experienced rubbish removal specialist to help you get rid of your white goods disposal can save you a lot of time and manual labour if you do it yourself. The team at 1300 Rubbish have specialised white goods collection services and are flexible to your preferred pick up schedule.
The best part about utilising a removal company is that there is no need to worry about lifting or carrying heavier appliances like washing machines and fridges as 1300 Rubbish will take care of everything for you.