'Hard Rubbish' refers to the bulky waste that cannot fit in the normal red bins, typically including fridges, dishwashers, couches, computers, cupboards, and other similar household items.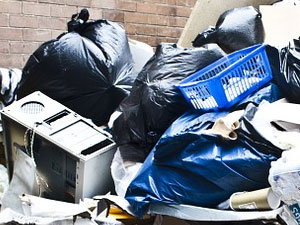 What Is The Difference Between General Rubbish And Hard Rubbish?
General rubbish is rubbish that can be easily disposed of – like food scraps, plastics, cardboard, waste material, and the like. Whereas, hard rubbish is large items you no longer have use for or are faulty, such as household appliances and furniture. These items are generally referred to as 'white goods', although a hard rubbish collection also includes more than white goods.
Hard rubbish does not include items that can be recycled, general rubbish, or building materials.
Because hard rubbish is not as easily disposable as general rubbish, hard waste collection services are available to assist with your excess waste materials.
What Does Hard Rubbish Include?
Hard rubbish collection includes the following:
Mattresses
Bed frames
Large household items
Carpet
Hot water systems
Timber less than 1.5m
Air conditioners
Lounges
Armchairs
Lawnmowers
Bicycles
Broken furniture
Paint tins
BBQs
Children's play equipment
White goods

Fridges
Washing machines
Dryers
Dishwashers
Televisions
Acceptable And Unacceptable Hard Rubbish Guidelines
Different councils have different guidelines for their hard rubbish collection. You can inquire with your local council for clarification, but the general rule of thumb has the following items strictly excluded from the hard rubbish collection.
Excluded from Hard Rubbish Collection
Hazardous wastes
Car batteries
Oils
Pesticides
Garden waste
Polystyrene
Styrofoam
Gas cylinders
Building materials
Engine blocks
How To Get Rid Of Your Hard Rubbish
There are multiple ways to get rid of your hard rubbish, including:
Donating
Recycling
Repurposing
Selling
Donating Good Quality Items
If your items are of good quality, then you can donate them to good causes. Whether it be charity shops, local op shops, women's shelters, or a community service hall, your good quality items will be appreciated by a second home!
Some charities and op shops have limitations for the types of goods they accept, so call up before trying to unload your hard rubbish to them – as they might not accept it.
If you are looking for somewhere to donate to, you can research online for community notice boards to see who needs or wants your secondhand goods.
Recycling Your Usable Goods
Recycling your usable goods is a great way to get rid of your hard rubbish. There can be so much build-up of clutter in our homes it can be overwhelming, and if items are in working condition but no longer needed then recycling is a perfect option!
Recycling hard rubbish is great for sustainability. Because there are so many materials used to manufacture these items, as well as the time and labour it took to construct them, it would be wasteful to dispose of them without considering how they could be reused.
The parts can be deconstructed and used for other purposes, giving them a second life!
Repurposing For Friends Or Family
Repurposing for friends and family is great if the items are still in usable condition. Does your sister need a new microwave? Pass your old one on!
Similarly if your friends or family need these items for their pieces, parts and materials, you can give the items to them rather than recycling them directly yourself.
Holding A Garage Sale
An old fashioned garage sale is a great way to get rid of unwanted items. Create flyers and advertise in your local area so people know to come along.
Make sure the items are protected from the rain and other harsh weather conditions, so try and have the sale on a sunny day!
If holding a garage sale isn't a viable option, Gumtree, Facebook Marketplace, and eBay are always convenient alternatives.
Who Takes Care Of Hard Rubbish Collection?
Local councils and individuals can take care of hard rubbish collection through clean ups and organised collections.
Hard Waste Collection Date
Council clean-ups happen every so often and dates differ from council to council. Each suburb has their designated dates for the year, so you can have your rubbish collected then. Enquire with your local council for more information specific to your area.
Outside of these designated council clean-up dates, you can organise an individual hard rubbish collection with the council. Residents are entitled to two free rubbish collections, which need to be organised and booked prior.
Look at your local council's guidelines, for example, the Wollongong council requires rubbish to be separated into three distinct piles for collection.
Placing items on the side of the road without a collection date is illegal and you can be fined for this, so make sure while you're waiting for your collection the rubbish is stored safely away from the road in your garage or down the side of your house.
What If My Hard Rubbish Isn't Suitable For Collection?
If your hard rubbish isn't suitable for collection then 1300 Rubbish can take care of all of your rubbish needs. 1300 Rubbish can dispose of your rubbish conveniently and sustainably as well
They are able to pick up your hard rubbish and other waste items at convenient times, contact them today to book a collection service.