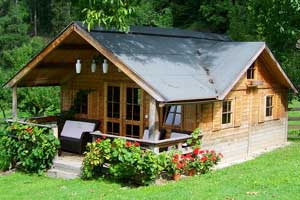 If you're looking for ways to add some extra space to your home for guests or your kids, one of your best options is to look into designing and building a custom granny flat. Whether it's for your in-laws or any other family member, there are a few things you should consider before, and during the build. Take a look at a few of our granny flat considerations below.
What are you using it for?
From the very beginning, your primary focus should be the end goal of your granny flat. Who is going to use it, their needs and what size it should be? If you're only planning on using it for your kids or close family members just sit down and ask them what they think and get some insight – it's easier to make changes during the design phase.
If renting the granny flat is in your scope, be sure to ensure that the granny flat accommodates for a number of renter types. This could mean ensuring there are separate places for the renters' children as well as guest spaces.
When renting is concerned, it's best to speak with a financial advisor to make sure that there aren't tax issues or anything similar that you could be hit with.
Budget & hidden costs
As there are plenty of different building styles for granny flats, there are also differentiating costs. The most common types of granny flat materials and designs are:
Converted shipping containers which range from $30k to $40k
Prefabricated models which range from $60k to $70k
Brick build structures which can exceed $100k and reach $120k.
If you want a slight reduction in cost you can choose to remove amenities like the kitchen and bathroom which can shave off over $10k. This would be a living and sleep-only design.
Other hidden costs can include plumbing and electrical costs, and these are where the majority of the hidden costs come in. Factor in at least $3,000 for these. If you're planning on renting the granny flat, be sure to remember that there will also be privacy costs, such as fencing off the building and making sure that there's a private walkway to the granny flat.
Affordable alternatives
If you don't have a massive budget, or the extra yard space to build an entirely new structure then you'll be happy to know that there are plenty of alternatives. If you have a shed in your backyard that you don't use, or a standalone garage, you can easily convert this into a granny flat without too much hassle.
Make sure to give a clutter and rubbish collection company, like 1300Rubbish, a call to make clearing out debris and general clutter from your shed a breeze, then you can start the conversion. You don't want to be simply moving loads of clutter from one place to another, it's easier to remove what you don't need.
Council requirements
Regardless of which type of structure or granny flat style you're aiming for, you'll need documented certification and approvals from your local council to make sure your home and its location are eligible to have another structure on the premises.
Contacting a building certifier will allow you to bypass a council lodgement and get the ball rolling as soon as possible.
Be sure not to begin anything until you've been given the green light to go ahead, otherwise, you might be forced to change your designs or demolish the structure altogether.
Insurance
This is an essential consideration prior to the construction of your granny flat. You'll want to make certain that your insurance company knows and agrees with your build as well as agrees to continue your policy due to increased liability from the fact another party may be living on your property and in a structure you've built.
There's a good chance that this could affect your premiums, so be sure to factor this into your budget before construction.
Access
Of course, you'll want to put access towards the top of your priority list for your granny flat. There has to be a separate entryway and outdoor area, as well as a privacy fence or screen of some sort to make sure anyone staying in the granny flat isn't just looking back into the main house.
On top of this, if the main home is your investment property, make sure that you keep ample backyard space for both the home and the granny flat. Cutting a large portion of the yard for the granny flat will reduce the cost of the main dwelling and result in a loss.
Simple, sympathetic design
Typically superficial design takes a backseat for granny flats. They're built for a purpose, and that's just about it. Though, you'll want to make sure that the granny flat compliments the home that it's sharing space with. If the home is of a contemporary design and features certain colours, be sure to continue this through the granny flat.
On top of this, you can even take the time to design the granny flat to be appealing and modern in its own right after you've dealt with the main structural and essential elements. It'll make it more appealing for renters.
Potential to over-capitalise
Finally, a granny flat is a great investment in almost every sense. It creates the potential for a secondary income without a massive costly and risky investment.
There is, however, a possibility that some investors may take it too far and risk over-capitalisation, creating a major issue. If you're considering a granny flat, your best chances at good returns are going to be if you live within 30km of a major CBD – any further out than that and you might be pushing your returns. Take it up with a finial advisor and see what they have to say.
Fast Quote: