Getting enough sleep is integral to our emotional and physical wellbeing. Without a good night's sleep, our bodies are not able to rejuvenate and our ability to think and function properly is impaired. That's why it's important to invest in a high quality mattress, and replace it as soon as it starts causing any problems. A good mattress can help improve your sleep quality by reducing any aches and pains and relieving stress, allowing you to sleep easily through the night.
Generally speaking, you should replace your mattress every 6-8 years, but you'll need to replace it sooner if it starts negatively impacting your sleep or your quality of life.
If you need a mattress removed, 1300Rubbish can make the process quick and easy for you. You can leave the mattress where it is – our team will pick it up and carry it out for you.
Organising a rubbish removal service for an old mattress is often the best option, because if you forget about it for a while it can take up a lot of space collecting dust and other allergens. Our team will take it to the appropriate recycling or disposal facilities so that you can focus on getting a new one.
Here we will be discussing when you should replace your mattress as well as ways that you can dispose of your mattress ethically and effectively.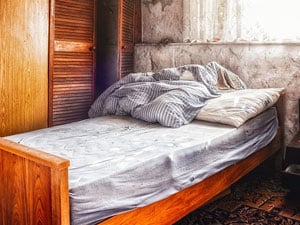 Reasons Why You Should Replace Your Mattress
There are a few different reasons why you should consider changing over your mattress, even if it's only a few years old. While it is an expensive investment, it's worthwhile to replace your mattress regularly because it directly affects your health and wellbeing.
Your Sleep Is Being Negatively Affected
Of course, this is a general guideline and not a one-size-fits-all solution. There are various factors that influence when you should replace your mattress.
If you notice that your mattress is starting to sag, has visible dips or lumps or imprints of your body, it's probably not very comfortable to sleep on. These imperfections will make it difficult for your spine to align correctly while you're sleeping, and might make it harder for you to get comfortable enough to fall asleep.
If you find that you sleep better at hotels or friends' houses than you do in your own bed at home, this could be a sign that you need to replace your mattress.
Another sign that your mattress is getting old is if your sleep is disturbed whenever your sleeping partner moves or gets out of bed because the mattress shifts uncomfortably. Old mattresses lose the ability to reduce motion transfer, so it might be an idea to invest in a new one so that you can both sleep comfortably.
Muscle Stiffness
If you regularly wake up with muscle stiffness or joint pain – especially back pain – this could be because your mattress has lost firmness and isn't supporting you properly. A new mattress is likely to either improve or correct this problem.
Allergies And Asthma
Dust mites and other allergens also accumulate in mattresses, which can cause or worsen symptoms in people with allergies, asthma, and other respiratory conditions. A 2015 study found that mattresses contain the highest concentration of dust mites in a household.
If you notice an increase in the frequency or severity of your allergy symptoms, this could be caused by the dust mites, mould, bacteria or dead skin cells that have accumulated on your mattress.
Wear And Tear
Signs of wear and tear on a mattress might include dips and lumps, saggy areas, visible springs or coils that can be felt through the fabric or noisy springs that squeak when you move. Wear and tear on a mattress can be a problem when:
The mattress is old and just needs replacing
It's making more noise than usual (noisy springs are common in old innerspring mattresses)
The mattress needs cleaning and maintenance often.
Essentially, you should replace your bed if it's no longer helping you get restful sleep. There's no clear-cut way to know for sure whether it's time for a new bed – but generally speaking, if you're thinking about a new bed, it's likely worthwhile to make the investment sooner rather than later.
For Your Long Term Health
An uncomfortable mattress can interfere with your ability to get a good night's sleep.
Not getting enough sleep has been linked to increased risk for a number of diseases, including:
heart disease
kidney disease
diabetes
The long term effects of sleep deprivation can also include:
Increased blood pressure, higher heart rate and inflammation
Greater risk of having a heart attack or stroke
Higher levels of cortisol (a stress hormone) that can lead to poor nutritional habits and decreased energy
Greater risk of depression and anxiety
How Can I Replace My Mattress?
Buying A New Mattress
When you are mattress shopping, there are a few things you should look for in order to maximise the durability and longevity of the purchase.
First, you'll want to look for a lower coil gauge for innerspring and hybrid mattresses, because these have thicker coils and are less prone to sagging. If you're looking for a mattress with memory foam, a higher foam density is best (5+ PCF for a memory foam mattress). A latex mattress is usually more durable than an all-foam mattress, because all-foam mattresses tend to be more prone to leaving body impressions. You might be looking for a softer mattress, but memory foam mattresses are very durable as long as they have a high enough density.
You should also try out the mattress before purchasing, to make sure the level of firmness suits you. In order to maintain the quality of your mattress, it's best to rotate it every 3 months and use a mattress protector.
Selling A Mattress
If you've decided to sell your mattress, you should start by double checking the used mattress sale laws in your area. In Australia, it is legal to sell a second-hand mattress as long as it is clearly marked as second-hand.
The first thing you'll need to do is decide on a price. You should take into consideration how old the mattress is, how often it's been used, the condition it's in and the quality of the brand you bought it from. You'll need to write an advertisement describing all of the features in detail.
You can put your mattress up on a marketplace like eBay or Quicksales.
Disposing Of A Mattress
There are a number of mattress recycling facilities where you can book online to drop off your mattress, or you can leave it outside for council clean up. Unfortunately, council clean up doesn't always happen frequently enough for you to be able to do this without leaving the mattress out to get wet in the rain or acquire dirt and dust.
Our team can take care of all of your mattress and rubbish removal needs by picking up your mattress and taking it to a recycler, so that you won't have to lift a finger. You could also use it as a good opportunity to get rid of any other old pieces of furniture or clutter instead of waiting for the clean up service.