When it comes time to clean out your garage the process can seem daunting. Garages are great places to store large items or things you do not want to keep inside, but this can lead to them becoming one of the most cluttered spaces in a home. 
In this article, we will give you some practical tips and advice on how to clean out your garage and eliminate any unwanted clutter!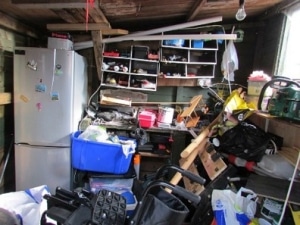 How to Clean Out a Garage Full of Junk
Cleaning out your garage will depend largely on what the end goal is. You may be looking to renovate, want to be able to locate items quicker, or for the car aficionados, perhaps you simply want to fit your vehicle inside the garage.
Whatever you are looking to do, this will dictate how you approach cleaning out your garage.
Our step-by-step guide on how to clean out a garage full of junk involves the following steps:
Plan what you want your garage to look like
Empty your garage
Organise items
Get rid of junk piles
Deep clean your empty garage
Buy or build storage options
Let's take a look at how you can clean out your garage in more detail.
1. Plan what you want your garage to look like
The first step in cleaning out your garage is formulating a plan. You need to assess how messy it is, what things are likely to be removed, and how you want the garage to ultimately look when it all is said and done.
This planning will help you decide what you want to keep and what you want to get rid of, as well as what potential tools, help, and rubbish collection and removal services you may need to enlist.
2. Empty your garage
Trying to clean your garage whilst in the middle of the mess can be trouble. The best way to declutter your house or garage is to get stuff out of the area you are trying to clean so you can begin sorting and sifting through the items.
Just open up that garage door and start getting everything off the garage floor. Once all that stuff is out, you can not only sort it, but you can give it a thorough clean without missing spots that are covered up.
3. Organise items
Don't just move the mess outside, onto the driveway, or to another part of the house without any discernible order. Instead, start sorting things into piles.
You can have a pile for things to keep, a pile for things to dump, a pile for things to donate, and a pile for things to sell or repurpose. Once you have everything sorted, it's time to start getting rid of the rubbish and figuring out a system for the stuff you want to put back in.
4. Get rid of junk piles
After the initial garage cleanout where everything is organised into different categories from garden tools to kitty litter, you can start getting rid of the piles which will not be going back into your garage.
It is essential to declutter your working area before you put the items you want to keep back in. This can be done in a number of different ways, such as:
Renting a dumpster
Organising a local council clean up
Recycling, selling, or trading the items
Repurposing them into household objects
Throw a garage sale
Put them in storage units or storage bins
This process will be efficient and streamlined because of your prior organisation in Step 3.
5. Deep clean your empty garage 
Now that the garage is cleared out, it's time to deep clean those hard-to-reach places. Garages are usually where dirt, grime, dust, and spiders accumulate, so you will need to get some garage cleanout items such as large garbage bags, detergent, mops, squeegees and more to attack the mess.
Give the space a good sweep, and keep your eye out for any oil spills, stains, or damage. This is a great time to check the structural stability of your garage and to see if you can seal cracks or do any easy repairs.
After a good scrub, you can run some warm water over the floor and driveway (for good measure) to ensure the space is nice and clean. Don't forget to clean the garage walls!
You may also want to consider painting the garage to give it a fresh look.
While we want to get rid of all the clutter and all the dirt, make sure you clean in an eco-friendly manner with safe chemicals and employ green cleaning practices.
6. Buy or build storage options
Finally, you need an organisational system to make sure you have space in your garage and keep it clutter-free. Before putting your stuff back into the garage, purchase, build, or acquire shelves, containers and other storage containers so that you can keep the garage organised in the future and ensure you have more floor space.
You can utilise shelves, the roof, rail and pulley systems to keep everything up off the ground and find things easily. There is nothing quite as fulfilling as an organised garage where you can identify items.
Imagine having your hand tools, gardening tools, sports equipment, camping gear, and photo albums all easily accessible in dedicated zones with more space and completely free of garage clutter.
Tips for Cleaning Out a Garage
Figure out what to keep and what to ditch
Create zones to temporarily store items on the driveway, on your lawn, or wherever you have space. Divide these items into categories of keep, ditch, and unsure, and work from there.
Keep criteria 
Things you've used in the past year
Things in working condition
Items of significance
Ditch criteria
If you simply do not have enough space for something, and you do not use it, it may be time to let it go.
We are human and we become attached to things, but it is time to say goodbye to old trinkets, other paraphernalia, and all those gizmos that are always lying around and in the way, but you never actually use. If you have holiday decorations that never come out at their designated holiday, get rid of them!
Have a yard sale! What better way to get rid of things with minimal time and effort? Print a few advertisements, put up a local community announcement on Facebook, and get rid of the stuff without even standing up.
Unsure pile
Think about other storage solutions that may not be on your property such as hiring a storage unit for a cheap price.
Label everything 
Labelling everything helps you know what is what, and to help you not be confused.
The worst thing would be to accidentally throw away something that was important, simply because it either was not labelled or because it was mislabeled.
You can label in categories of not only the items in your garage you decide you are keeping, but also labelling your discard piles can be useful too.
Labelling your rubbish can help with the disposal process, putting things into categories like white goods, electronics, furniture, and assorted household rubbish.
Find other storage options
Think about how you want to use your garage and how you can use it most efficiently.
Do you only want your car parked in there, along with essential larger items? Do you want to use it as a storage unit for designated items?
Consider getting a back shed if you have a lot of tools or equipment, or other things you want to store on your property. You will need to abide by council regulations and rules, so contact your local council if you want to erect a shed on your property.
If you have other items that do not need to be kept on your house property, you may want to opt for a storage unit nearby to keep your belongings safe and secure.
How Much Does it Cost to Clean Out a Garage?
Cleaning out your garage can be an expensive operation or a cheap one depending on a number of factors.
The first determining factor is the state of your garage. If your garage is overflowing with large, bulky, unwanted items, this could contribute to large tips fees, petrol costs, and costs of cleaning.
How you approach the cleaning will depend on what type of rubbish you have in your home.
If you clean out your garage DIY style, you will need to pay for your own cleaning supplies and tools. Time also equals money in today's world, so think about the time you would spend on such a big project and whether it would be more beneficial and useful for you to hire a professional rubbish removalist instead.
If you go down the DIY route, also consider the fees associated with tips and other rubbish collection bins.
How to Get Rid of Rubbish From Your Garage
DIY
There are many different ways to get rid of the rubbish from your garage. You can do it manually, by separating the piles, putting them into garbage bags, and putting them in the bin, or taking a trip (or several) to the tip if necessary.
Of course, this is time-consuming, a bit of a hassle, and can cost quite a bit of money for multiple tip trips.
Hire Experts
Another popular option is hiring a rubbish removal specialist to take care of it all for you. By paying a professional junk removal company to get rid of all the items for you, you do not have to act like a middle man and can enjoy your new spacious and decluttered garage without having to stress about driving around your rubbish or squeezing it into your obliging neighbour's plastic bins.
Take the hassle out of rubbish removal and leave it to the professionals with the tools and materials needed to get the job done efficiently and effectively.
Our professional team can help with disposing of not only household waste, but other waste like construction materials and commercial rubbish. With services available in various locations, 1300 Rubbish is your go-to contact for sustainable disposal with quick turnaround times.
Find out more about our household rubbish removal services by calling 1300 Rubbish on 1800 220 962 to get a fast, obligation-free quote.