Upgrading your home and buying a new fridge can be exciting, but what do you do with your old fridge? Refrigerators contain hazardous materials that release greenhouse gases, so it's important that you properly dispose of your fridge.
If you have ever tried to move your fridge then you will know it's not a one-person job and not as simple as throwing it out with your rubbish.
In this article, we will take a look at how you can get rid of your fridge in a way that is not only safe for the environment but saves you time and energy.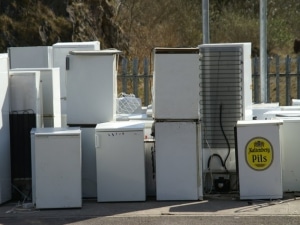 How to Get Rid of an Old Fridge
1. Hire a Professional Removalist
The most stress-free way for you to get rid of your fridge is to hire a professional removal service to take it off your hands and properly dispose of it for you. Here are some of the reasons why you should consider hiring a professional removalist:
It will save you time and energy – A removal service will do all the heavy lifting for you and leave your space clean, and ready for your new refrigerator.
It's stress-free – Removal services know how to get rid of a fridge without releasing hazardous chemicals that can contaminate the environment.
It does not contribute to landfill – Generally, white goods will be recycled by removing the chemicals and recycling the heavy metals. Reducing your contribution to a landfill can be beneficial to the environment.
1300 Rubbish are experts in white goods disposal and can provide you with a free quote for collection.
2. Donate to Charity
Donating your old fridge can not only help the charity make money, but it can also help a future household afford a fridge. It's also a great way to recycle old appliances and give them a new lease of life.
Many charities will accept refrigerators as long as they are in good condition, operational, and the seal is still intact. Some charities even offer collections too, which can be a huge bonus if you do not drive or have access to a truck.
3. Sell
If your fridge is still in good working condition, there is a huge market for secondhand appliances. People moving into their first home or staying there temporarily, and need to furnish on a budget, will be keen to buy a second-hand fridge.
You can advertise your old fridge online, settle on a reasonable price and ask the interested buyer to collect the fridge from your home. Not only do you make some cash, but your fridge is also recycled to a new home and collected so you don't have to worry about disposal.
4. Local Council Collection
Most Cities in Australia offer local council collections for bulky items, including appliances like your old refrigerator. It is illegal to leave your old fridge on the curb due to the hazardous chemicals that could leak and be harmful to the surrounding environment.
Instead, book a council pick-up and simply put your fridge on the curb no earlier than the night before, ready for your selected time slot. Even though this option requires a bit of muscle on your end, it is free and you can be confident the hazardous materials are being disposed of safely.
5. Retailers Removal
Several retailers in Australia offer appliance removal services, which is great if you also buy your new fridge from them. Each company has different terms and conditions and may ask you to prepare the fridge before collection. With that being said, this service will be smooth and just as simple as replacing the old with the new.
Things to Consider Before Getting Rid of an Old Fridge
How you get rid of your fridge will depend on the working condition of the components and electronics. You should only donate or sell if the appliance is still safe to use, which can be done by completing the following checks:
Check the seal of the fridge – Put a piece of paper in between the seal, if you feel resistance when you try to pull it out then your seals are good.
Check the temperature – For food safety, a fridge temperature should be below 4°C and a freezer should be -18°C.
Listen for noise – If your fridge is too hot, the motor runs the compressor until the temperature drops. If the motor is running all the time and making a loud noise, your fridge is working overtime to keep a safe temperature.
If your fridge passes these checks then it can be recycled for another home.
You should also consider if you have the transport means, manpower, and time before deciding on how best to get rid of your fridge. If you are limited on all three, the best solution may be to book a removalist.
Frequently Asked Questions (FAQs)
How Can I Tell How Old My Fridge Is?
Most fridges will have a metallic label with the serial number, manufacturer and model number on it. The serial number will sometimes include the date or a quick search online will help you decipher the serial code.
How Much Power Does an Old Fridge Use?
Typically, a fridge older than 20 years can use around 1,700 kWh of electricity per year, whereas a new energy-efficient fridge may only use 450 kWh per year. At 27 cents per kWh, your old fridge could be costing you $337.5 more per year than a newer model would. Not only that, an energy-efficient fridge is better for the environment.
Are Old Fridges Dangerous?
Fridges use coolants to keep their cold temperatures which can be hazardous to you and the environment. The older the fridge is, the more chance there is of wear and tear that could cause these materials to leak. They can also be a fire hazard due to the plastic; electric wires should be checked regularly to ensure no fraying.
Can I Use My Old Fridge as a Cupboard?
Yes, you can repurpose your old fridge as a cupboard! Some creative people have used it as a pantry, bookshelf, and even up-cycled one into a sofa. If you are storing food at room temperature, you should remove the door to allow the air to circulate and prevent mould or bad smells from developing.
Get In Touch 
Contact 1300 Rubbish (1300 782 247) for an effortless refrigerator disposal service. Our friendly and professional customer service team will answer all your queries and even provide you with a no-obligation quote. You can also fill out our online form with your contact details so our team will know how to reach you.