The most common reason why Australians remove an internal wall in their homes is to create a more open floor plan. It is a relatively simple way (compared to adding windows) to add more light into an existing space and create better flow.
Whether you're flipping a fixer-upper, renovating a bathroom, or knocking down an internal wall to achieve a more modern approach to open living, here's everything you need to prepare for when you need to knock down a brick wall.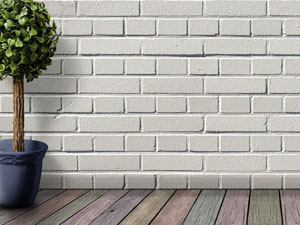 Looking for something specific? Here are some quick links:
And since we're rubbish removal experts, we'll throw in some tips to ensure that the transition from an active worksite to home is as smooth as possible.
Not all internal renovations require council approval. However, any modification to a structural or load-bearing wall or beam or column will require that you get council approval.
Each local council has their own set of planning and development requirements and when it comes to knocking down anything structural within the property, you need to seek council approval.
When it comes to brick wall demolition, if the wall is shared and/or is load bearing, you will probably need to get council approval and the appropriate permits before commencing the project.
Therefore, your first point of call is to contact your local council to seek whether you need a permit and if so, get the required permit(s).
For your convenience, here are a few LGAs where we service:
Sydney
Melbourne
Brisbane, Gold Coast and Sunshine Coast
NSW Central Coast and Newcastle
But before you contact your local council, you should have as much information about the project on hand.
A load bearing wall is a wall in a building that supports the weight of the entire structure. In houses, most walls are partitions and therefore not load-bearing. Most load-bearing walls in homes are exterior and interior walls.
If you were to knock down a load bearing wall without the proper processes, the structural integrity of the building is compromised and in some cases, a section of the building or the entire building may collapse as a result.
While there are online guides on how to look for a load bearing wall, the person who can provide you with this information is a licensed structural engineer and you will need to pay for an inspection and formal report to get local council DA consent.
While you can call an experienced builder to carry out an initial inspection, a structural engineer is more qualified for the assessment.
A structural engineer will typically cost you anywhere from $90 to $200 per hour depending on the location within Australia. So to put things into perspective, you can expect to pay $150 to $300 for a site inspection.
If the wall is not a load bearing one, you can safely proceed to DIY.
For most DIY jobs, you will need the following tools:
Masonry chisel (not wood or cold chisel)
Ball-peen hammer (or mason's hammer) although a regular claw hammer will suffice
Ladder or scaffolding
Heavy canvas tarps
Electrical wire detector or stud finder
Wall scanner
A few pieces of plywood
A manual tear down of thick brick walls can be labor intensive. You can make the process a bit faster by using a skid steer that has a jackhammer attached. These tools can be available for rent at a number of construction rental outlets.
In any demolition work, your safety and the safety of those around you comes first. This means wearing protective gear at all times and ensuring that anyone at the site also is adequately protected.
If you're going to remove a wall yourself, this means having goggles for eye protection, thick gloves for hands, slip-resistant work boots, ear plugs for hearing protection, hard hats, high-visibility clothing, masks, and respirators.
Having these personal protective equipment (PPE) will reduce the risk of serious injury.
In addition to these, having visible signs, barricades and proper signage can help prevent unnecessary injury in and around the demolition area. This is because falling bricks are a safety hazard and no one should be allowed on the floor or ground beneath you (or the perons) dismantling the brick wall.
Before you start tearing down the brick wall, you need to lay down heavy canvas tarps on the floor. This is because the average brick weighs 3.1kg and if it falls down uncontrolled, it can cause significant damage to your flooring (which adds to your renovation cost and headache).
With the plywood, you'll want to lay this next to your ladder or scaffolding. The purpose of the plywood is to dampen the fall of each brick so that the impact on your flooring is minimised. We recommend layering the plywood on top of your canvas tarp for added protection.
Set up your ladder or scaffolding
Ladder injuries are the most common DIY injuries in Australia. Therefore, follow these instructions from Bunnings to ensure that your ladder or scaffolding is set up correctly.
Check for pipes and electrical connections
Use a wall scanner or high quality stud finder to see if there are any hidden surprises inside the wall that you wish to remove. If you do find PVC pipes or electrical wires behind the wall, you will need to consult a licensed electrician or plumber before knocking down the wall.
Start from the top
As tempting as it may be to sledgehammer away at the wall, you should start from the top layer and remove bricks individually. Doing this will keep the wall from collapsing.
Place the chisel into the mortar joint beween the first and second top layers of bricks
Start at the top of the wall and use an air chisel to break the bond between the top row of bricks and the second row of bricks. Be careful not to chisel too deep or you may damage the bricks. Alternatively, use a hand chisel and hammer. This method is much slower but can be used for a small brick wall.
Drop each brick onto the plywood
Work side to side then move onto the next row of bricks
Now that you have safely taken down the internal brick wall, the next step is to dispose of the old bricks and debris.
FYI, all local councils across Australia regulate the disposal of construction and demolition waste and there are hefty fines for breaking these rules.
To remove this debris from your property, hire a skip bin or hire a rubbish removal service that specialises in ethical disposal of construction materials.
To avoid significant damage, further costs, and regret, don't make these mistakes:
Not consulting a structural engineer before commencing demolition
Not seeking council approval
Not checking for hidden wires and pipes inside the wall
Hiring an unlicenced and uninsured builder
Using a sledgehammer to the wall instead of painstakingly hand-chiselling each brick away from the wall.
Frequently Asked Questions
How long does it take to remove a brick wall?
The actual removal of the wall can take about 2 weeks. Adding in moulding, flooring and finishing touches will add to your timeline.
How much does it cost to remove an internal wall?
Labour cost is going to be the biggest contributor to the total cost of removing a brick wall. A non-load-bearing wall will cost far less than a load breaking one. Depending on your location, the kind of wall being demolished, the size of the wall, and the space on either side of the wall – you may be looking at a project starting at $2,000 all the way up to $10,000.
What is the difference between hiring a skip bin or rubbish removal?
Hiring a skip bin is one of the easiest ways to get rid of renovation and demolition waste. However, if you're a DIY, you will have to gather all your waste materials and put it into the skip bin.
One of the major disadvantages of hiring a skip bin is that they by nature take up a lot of space. If your property is on a narrow laneway, it may be difficult to reserve a space for the skip bin.
A rubbish removal service like the one we offer is a professional done-for-you service. Our professional crew will turn up on-location and clear out your rubbish and dispose of the waste for you. We even offer same-day demolition debris removal.
Hire The Professionals
To wrap things up, leave the work to those who are most qualified and experienced.
Fork out the cash for a structural engineer to avoid a very costly mistake. You may need a builder, a carpenter, a plasterer, and an assortment of tradies. And for responsible rubbish removal, give us a call and get a free quote.