If you've just bagged a fantastic over-the-range microwave deal, you're likely looking to free up some counter space and dispose of your old appliance.
While dumping your microwave with the rest of the household trash may be your first instinct, this is unsafe and may warrant a hefty fine in certain regions. This is why it's important to consider disposing of your appliance in a responsible, environmentally-friendly way.
From donations to appliance shops, take-back policies, and e-waste recycling centres, below are 6 ways you can dispose of a microwave legally and safely.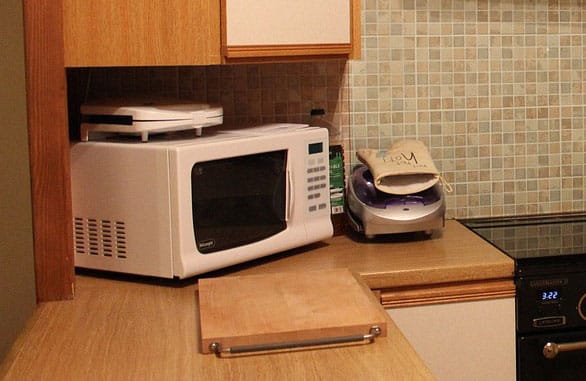 1. Read Up On Your Local Laws
Before deciding how to dispose of your old microwave, make sure to acquaint yourself with the local laws and regulations in your region. As microwaves are classified as e-waste (electronic waste), they cannot simply be dumped with the rest of your trash.
In most countries (including Australia), recklessly throwing away an old microwave is illegal, so make sure to consult your local regulations first. If you aren't sure what the law says, visit your local municipality or government website to read up on the rules governing e-waste in your locality.
Even if there is no law prohibiting you from dumping your microwave, you should still consider the options on this list for eco-friendly and safe disposal.
2. Hire a White Goods Removal Company
Rubbish removal companies like us offer white goods removal. White goods are domestic items that are large and bulky and include things like microwaves, air conditioners, and washing machines.
If you want to avoid the hassle of reading up on local laws, simply call us and let us deal with your microwave — you won't be responsible for it once you've given it to us.
We also remove and collect a wide range of other kitchen accessories — such as cabinets, plumbing fixtures, and kitchen countertops — as part of our kitchen demolition and removal service, so if you're revamping your kitchen, we'll be your one-stop rubbish removal shop.
3. Consider Donating It
If your old microwave is still in reasonable working consideration, consider donating it to a local charity, goodwill authorities, The Salvation Army, or a nearby thrift store. While it may no longer be of any use to you, someone else could make good use of it before it reaches the end of its life.
4. Dump It in a Local Landfill
While you shouldn't trash your microwave along with your household rubbish, some designated landfills allow you to dump your electronic waste for a small fee.
If there's no better use for your microwave and you can't use your local dumpster, find out whether a nearby landfill will allow you to dispose of it. Depending on the region and local laws, most landfills have a specific bin assigned for appliances and e-waste disposal.
5. Return It to the Manufacturer
The components used for manufacturing microwaves are generally quite expensive and can be recycled or reused even if the microwave is faulty or old. This is why many microwave manufacturing companies often have an appliance takeback program for reusing or repurposing old microwaves.
So call the manufacturer of your microwave and ask if they have a takeback program. If they do, sending it back to the company is the best way to dispose of your old microwave. Some manufacturers even pay the shipping costs as part of their takeback package, so make sure to ask before giving them your word.
6. Resell It to Appliance Shops
If your manufacturer doesn't have a take-back policy, you can try selling your microwave to local appliance shops. Many resale appliance shops hire expert repairers and might be willing to refurbish your old microwave. So before dumping your microwave in a landfill, call your local shops to find out if they may have a use for your appliance.
Many appliance shops also have old appliance removal policies. If you're purchasing a new microwave from a shop and want to dispose of your old appliance, you could get a free appliance removal service. If not, certain shops charge between $25 and $100 to come and remove your appliance for you.
Whichever the case, make sure to contact your local appliance shops before making a decision. Dumping your microwave in a landfill or dumpster should always be your last option.
7. Post an Ad on Online Marketplaces
If your microwave isn't too worn out, you can also try selling it on an online marketplace for a profit. Many online platforms — such as Facebook Marketplace and Gumtree — attract people looking for bargains on electronic appliances, so you're likely to find a good deal.
8. Contact an E-Waste Recycling Centre
If none of the above options works out, contact a local e-waste recycling centre. This is one of the most convenient, responsible, and eco-friendly wastes to get rid of your old appliance.
E-rubbish centres don't just dispose of the old appliances — they also take them apart to see if there are any materials worth repurposing. Some components are exported to other countries or sold to manufacturing shops where they can be reused for making new appliances.
E-waste recycling centres also take appropriate precautions to dispose of old electronic components safely. This, in turn, ensures any functional parts don't end up rotting in a landfill and is the environmentally responsible choice to make.
If you aren't aware of any e-waste rubbish centres near you, do a quick Google search to find a reliable company in your region. Most recycling centres will schedule a pickup appointment at your convenience and take the old microwave off your hands for a small fee.