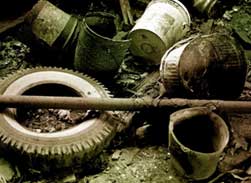 Illegal dumping is a major and unfortunately common problem in many parts around the country. Rubbish, waste and discarded items pose problems for humans, wildlife and the environment alike. Illegally dumped waste can have a negative impact on the appearance of nature and urban areas but more importantly reduce the quality of life and cause dangers associated with hazardous waste.
The New South Wales government has an Illegal Dumping Strategy which is backed by continued funding of $65 million. While this funding aims to support a range of solutions to illegal dumping in partnership with councils, industry and the community, it's important that we, as individuals know how to deal with our waste and keep our community clean.
So, what is illegal dumping?
We all understand the impacts that illegal dumping can have on the world around us but what constitutes illegal dumping?
The NSW government's Protection of the Environment Operations (POEO) Act 1997 details several sections that address land pollution and waste offences. The act aims to:
Deal with the unlawful transporting, acceptance and depositing of waste
And states; that the owner, transporter and person receiving the waste or allowing their waste to be received are committing a crime
So, what does this actually mean?
Illegal dumping includes placing unwanted household items, rubbish or green waste on the footpath, side of the road or in the bush. It also includes when businesses or contractors who are paid to correctly dispose of waste but instead dump it without proper approvals. Furthermore, and perhaps obviously, dumping asbestos and other hazardous waste in area's other than those legally allowed is illegal.
What are the consequences of Illegal Dumping?
Illegal dumping can have major effects on the environment, but it can also pose a risk to the community. Rubbish can obstruct footpaths, driveways and alleyways, bringing potential to harm pedestrians and road users. Additionally, when people see rubbish dumped, they are more inclined to add to the pile, further exacerbating the problem.
The reasons people dump illegally include high fees that come with legal dumping or a lack of services which allow people to dump responsibly. However, the consequences of illegal dumping can be much more severe. The POEO states two different types of penalties for the individual and corporation which are then divided into three tiers:
Tier 3 – Penalty notices
$750 on-the-spot fine for individuals with a maximum of $1500 on-the-spot fine
$1500 on-the-spot fine for corporations with a maximum of $5000 on-the-spot fine
Tier 2 – Use of land by an owner or occupier as a waste facility without lawful authority; unlawful transporting or deposition of waste
$250,000 maximum penalty for an individual, and in the case of a continuing offence, a $60,000 penalty for each day the offence continues
$1,000,000 maximum penalty for a corporation, and in the case of a continuing offence, a $120,000 penalty for each day the offence continues
Tier 1 – Disposal of waste in a way which harms or is likely to harm the environment
A maximum penalty of $1,000,000 and/or seven years imprisonment for the individual if the disposal was done wilfully. $500,000 and/or four years imprisonment if the disposal was done negligently
A maximum penalty of $5,000,000 for a corporation if the disposal was done wilfully. $2,000,000 if the disposal was done negligently
In addition to this, there are laws that allow for the seizure of vehicles that are used in repeated offenses, with 2 years prison time for the offender. If a person gives misleading or false information about illegal waste, they can be issued with a fine of up to $240,000 and 18 months prison time, or for a corporation a fine up to $500,000.
Environmental impacts of illegal dumping
When it comes to the environment, illegal dumping can have far spreading consequences. Waterways can be contaminated which can cause marine pollution and harm to marine life. Similarly, the local plant and wildlife habitats can be destroyed which in turn can affect the quality of health and wellbeing of citizens. In a broad, wholistic sense, illegal dumping also has ramifications for global warming.
If illegal dumping becomes a common, recurring issue, it can impact on things like tourism and community events, not to mention the waste of what may have been valuable recyclables.
What can you do?
Sure, you know illegal dumping is horrible for the environment and will result in severe penalties, but what can you do to stop it? Firstly, if you notice illegal dumping you can report it to government or local council bodies who will take the matter into their own hands.
It's important that you don't clean up the waste on your own. Of course, if there's a small amount of rubbish, or an easy to move bit of junk on your property, remove it on your own. At the same time, it's crucial to consider the risks that come with removing waste. Certain waste may contain hazardous materials and have potential to cause injury. For these reasons, you should not try to remove waste on your own, or commit illegal dumping.
If you need to remove any sort of waste, hazardous, green or electrical, don't hesitate to contact us at 1300 Rubbish so we can remove of the waste safely, responsibly and professionally.
---
Fast Quote:
---