If you're in Carlton and you've got rubbish that has just got to go, make 1300 Rubbish your first call. No matter where you are, from Royal Park to Carlton Gardens, when junk, rubbish and general waste starts to pile up you need an affordable and efficient rubbish removal service to combat the mess.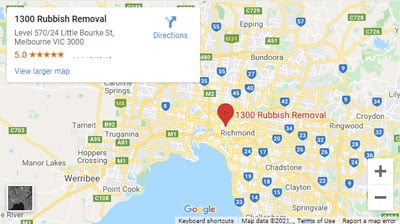 DO YOU SERVICE MY AREA?
Do We Service Your Postcode?
Our Melbourne rubbish removal experts are equipped for anything from general rubbish removal and end-of-lease moves, to hoarding cleanups and commercial, residential and construction rubbish collection.
From Arnold Street to Queensberry Street we have Carlton rubbish pickups covered. We are Carlton's premier rubbish removal company (don't take our word for it, check out the reviews!) and consistently bring our customers high-quality service at an affordable price.
OUR SERVICE
Whether it's a simple rubbish collection, more advanced cleanups, or the removal of furniture, appliances, garden waste or green waste, if you want it gone, we will not only remove and dispose of it ethically, but we will clean and sweep up after ourselves. This ensures that it is a safe environment for you and your family, and that you can use the space right away.
WHAT WE DO
We love doing the heavy lifting so our customers don't have to lift a finger. Our experienced team members will move all of your rubbish and unused furniture or products with a smile, and then, when they are done, they will stick around and tidy up. You'll have a clutter-free space that's clean and tidy without needing to do a thing.
Our most popular services include:
We specialise in household rubbish removal, including things  like old furniture, white goods, e-waste, general unwanted household items, garden or green waste, it doesn't matter. Cleanliness starts at home, and a cluttered, messy and dirty home is not a happy home. 1300 Rubbish are experts at removing and disposing of anything that is cluttering up your household. We have trucks all over Melbourne and can get to your Carlton home quickly, saving you time, effort and, yes, money.
Carlton businesses are just as important to us as our beloved Carlton residents. Offices, restaurants and businesses churn out junk and waste like crazy, and speed, efficiency and cost are major factors in many companies' waste-management decisions. Partnering with us will be the best business decision you ever make because we can remove anything, big or small, from desks, chairs and kitchen appliances to regular old garbage duty. We are so quick and efficient that you might not even notice we are there.
If there's one thing any construction worker knows, it's that there is A LOT of waste on a job site. Well, we know it too, because we are constantly working with construction companies to help them get rid of it. We don't care if the job is big or small, we do them all. We can move brick rubble, sheet metal, steel, concrete, anything that accumulates on a building site, and our experienced, professional team knows construction sites, safety and etiquette like the back of their hands. We never get in the way, we just get things out of YOUR way.
ENVIRONMENT
We only have one planet, and we conduct our service with that in mind. We care about our future generations and our environment and take a serious environmentally-friendly approach to the disposal of e-waste and plastics. If it's recyclable, we will recycle it. If there's rules, we follow them. You can rest assured, whether it's scrap metal, furniture, office rubbish or plasterboard recycling, we will process, dismantle, recycle and dispose of any waste we get in coordination with the proper rules and regulations. This means that not only are we doing our bit for the environment, but that you are also in absolutely no danger of getting saddled with fines or penalties for improper rubbish disposal.
DO YOU SERVICE MY AREA?
Do We Service Your Postcode?
Our Trusted Rubbish Removal Process
Our experienced team is highly trained in the steps of our simple, effective and professional service. We value efficiency, honesty and kindness to people and the planet, so we can guarantee an open, friendly chat, an effective job and minimal environmental impact. Honesty is also big for us, so that's why we're completely transparent with our pricing: register for a quote online, and we'll guarantee the best price. The steps to a clear space with 1300 Rubbish are simple:
Call our friendly team or fill in the quick online form and we'll give you an obligation-free estimate of how much your job will cost
Choose a time that works for you.
Our team will call 20-30 minutes before they arrive, and will re-confirm the cost before they start the job.
Once we've loaded up the truck with any waste you want removed, and completed a thorough sweep-up, we'll dispose of the waste in the most environmentally friendly way possible: recycling and composting wherever we can.
Carlton residents deserve the best rubbish removal service to keep their homes, businesses and job sites clean. We are a highly experienced team that is constantly on the move, servicing Carlton and its wide variety of customer needs and jobs. From Fitzroy to Carlton North we have Carlton and surrounding suburbs covered. On a typical day we'll collect unwanted furniture in Parkville, do some green waste removal in Queensberry Street, get some rubbish collection done in Macarthur Square and some waste disposal and rubbish removal in Pelham Street. You'll see our red trucks on the road every day – give them a wave, they are some of the friendliest Carlton regulars you'll meet.