Our Comprehensive Rubbish Removal Services
Hiring a waste removal service when you are doing a clean-up is the best way to ensure that you will keep your space clean and tidy at all times. 1300 Rubbish can help you to make cleaning up your Inner West home or office easier by making the whole process quick and easy. You won't even have to worry about cleaning up after we have left because we will sweep up once the job is done.
We offer a range of different services in and around Sydney's Inner West, such as;
Decluttering is never easy, especially if you have a lot of junk lying around your house. But if you want to get rid of your household waste effortlessly and fast, you need to call 1300. Whether you need someone to get rid of an old mattress or you need to dispose of your old and dingy carpet, we can help you to get rid of your waste without any hassle. Our team can also take care of any garden waste you might have so you can go back to having the tidy household that you deserve.
If you have a cafe in Marrickville that needs a clearout or you have an office in Alexandria that you are furnishing the team at 1300 Rubbish will be there to help you. Our team are specialists in commercial rubbish removal so you can be sure that we will get the job done without having to worry about waste disposal or cleaning up your space. So whether you need your office furniture moved or removed or you just need to clean up the rubbish in your office area, 1300 will be there for you.
The Inner West is an area of Sydney that is always growing and changing, so there are lots of new job sites popping up everywhere you look. If you're working on a construction job, it can be hard to avoid mess and junk, so you will need some waste removal professionals to help you clean up your job site. At 1300 Rubbish, we can help you to get rid of any rubbish that you may find on a construction site. So whether you need to remove demolition waste or you have some scrap metal to get rid of, we can help you.
Capable Team
With over 25 years of experience, you can be sure that 1300 Rubbish knows how to remove rubbish in the quickest and most effective way possible. We will collect, transfer and dispose of all of your rubbish and recycling, and can offer same-day rubbish removal as well.
Don't worry about hiring a skip bin or making a trip to your local tip, because 1300 Rubbish and our team of capable staff will be there to assist you. We are not finished until our customers are happy with their clutter-free space.
Here is our process:
1) The Pick-Up
1300 Rubbish comes to remove the commercial, residential or construction rubbish you need to get rid of. You do not have to lift a finger, as our team will lift, dismantle and detach all your items, even those hard to reach fixtures!
2) The Clean Up
After the waste materials are all gone, there is a clean up to be done in order to leave the space ready for you to use. For minimal downtime and improved safety, no glass shards, sharp materials or hazardous items will be left for you to deal with.
3) The Disposal
After we drive away, we take on the responsibility of correctly dismantling, recycling or disposing of your waste. We make sure to relay any e-waste or other regulated materials to government-owned or private facilities, and we always take a more environmentally friendly approach.
As well as providing an affordable way for Sydneysiders to get rid of rubbish, we also provide the peace of mind that when you have rubbish removed, it will be done so in a safe and responsible manner every time.
If you are based in Ashfield, Earlwood, Camperdown, Stanmore or surrounding areas of the Inner West NSW, call today for fast, hassle-free and responsible junk removal.
1300 Rubbish Knows the Inner West
The Inner West of Sydney is known for its welcoming and friendly vibe that accommodates a range of people of different cultures and points of view. The area is conveniently located close to the CBD while still being removed from the hustle and bustle that comes from living in the city. And with this area being so close to the city, 1300 Rubbish can be there in no time to assist you with any of your rubbish removal needs.
With major hubs in the area like Newtown for the more artistically inclined, Leichhardt for those who are looking to expand their palate culturally or Balmain for those who are into more trendy cafes and Victorian-style architecture, there is truly something for everyone in the Inner West. With people young and old visiting from all over Sydney to sample what this region has to offer. So whether you are into the art and culture that the locals are so fond of or you're searching for a laid-back location that has everything you need within reach, the Inner West is the place to be.
Brooke Cherie
1701829999
Very happy with the service from booking to collection. Staff are friendly and professional. I would definitely recommend and I will absolutely call in the future for more collection services.
Lisa
1700950515
Professional, punctual and great job
Susan JW
1700002804
Very fast, efficient and arrived within the timeframe. Will book again most likely after the Christmas carnage.
Debra Hollinger
1699426438
Leon & Simon got straight into emptying a very old shed. Hard working, professional & very nice young men. Thank you for your hard work.Deb
bPW BPW
1699225587
Best rubbish removal I have ever used
Elaine Meirelles
1697688324
Best price on the market.The guys came on time, reliable, friendly and polite. The job was done in a blink.Thank you for you help.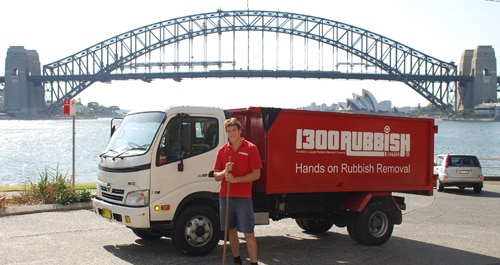 Excellent
4.9
★
★
★
★
★
Based on 724 reviews from
Brooke Cherie
★★★★★
Very happy with the service from booking to collection. Staff are friendly and professional. I would definitely recommend and I will absolutely call in the future for more collection services.
Jane Lovell
★★★★★
Quick service, friendly team, and job done.
Lisa
★★★★★
Professional, punctual and great job
Lari
★★★★★
Great experience, crew were friendly, efficient and great at what they do. Customer service was also amazing. Was by far the most reasonable quote I recieved and they went above and beyond for the job. I offered to help but they were happy to do everything themselves. Highly recommend!