Our Comprehensive Rubbish Removal Services
Whether you are cleaning up a home, an office or a building site, you want to do the best job that you can and that's where we come in. As professional rubbish removalists, we can help you to make any space look neat and tidy while making the whole process of cleaning up as easy as possible. Best of all, we will clean up after ourselves once the job is done, so you won't have to worry about any additional cleaning up after the rubbish is removed.
We offer a range of different rubbish removal services in and around North Sydney, such as;
Anyone who knows the area of North Sydney knows that there are a lot of office spaces in this suburb of Sydney, so there is always commercial rubbish that needs to be removed. Our team of specialists can help you with the removal of any commercial rubbish so that you won't have to worry about cleaning up office rubbish or throwing things away because we will be there to help. We also perform office cubicle removal and furniture removal so you can be sure that everything will be taken care of in your commercial space.
If you have a lot of rubbish or old furniture lying around your North Sydney home, you need to call 1300 Rubbish to help you get rid of it fast. Household waste items can be tricky to deal with. We can assist you in the removal of white goods, old furniture and even dispose of old carpet that you no longer want in your home. We are specialists in decluttering and can help you get rid of any household junk without any worries. We can also get rid of any garden waste you might have after a garden renovation, so your whole home can be as clean as it should always be.
Because North Sydney is a bustling hub close to the CBD, there are always new buildings being built in the area. But construction sites can be messy places and it can be hard to avoid the rubbish and junk that can pile up on a job site. At 1300 Rubbish, we are professionals at construction rubbish removal, and we can help you to get rid of any junk or unwanted debris that you may find on a construction site. Whether you need help recycling your gyprock or you have some bricks that need to be disposed of, we can help you with all of your construction waste removal needs.
We're Experienced in North Sydney Rubbish Removal
North Sydney is known for its many office buildings where people work hard during the week and it's laid back vibe over the weekends. The area is conveniently located north of the CBD and is a hub for many big businesses that trade out of Sydney. And with this area being so close to the city, 1300 Rubbish can be there in no time to assist you with any of your rubbish removal needs.
With landmarks like the Sydney Harbour Bridge, The Sydney Olympic Pool and Sydney's Luna Park nestled against the backdrop, it is easy to see why many people flock to this area yearly from all over the world.
Brooke Cherie
1701829999
Very happy with the service from booking to collection. Staff are friendly and professional. I would definitely recommend and I will absolutely call in the future for more collection services.
Lisa
1700950515
Professional, punctual and great job
Susan JW
1700002804
Very fast, efficient and arrived within the timeframe. Will book again most likely after the Christmas carnage.
Debra Hollinger
1699426438
Leon & Simon got straight into emptying a very old shed. Hard working, professional & very nice young men. Thank you for your hard work.Deb
bPW BPW
1699225587
Best rubbish removal I have ever used
Elaine Meirelles
1697688324
Best price on the market.The guys came on time, reliable, friendly and polite. The job was done in a blink.Thank you for you help.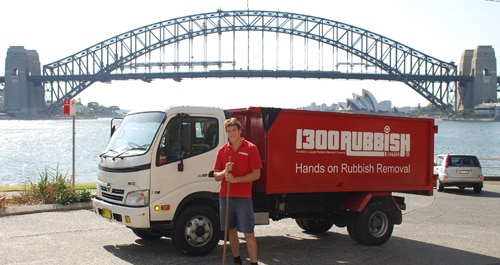 Excellent
4.9
★
★
★
★
★
Based on 724 reviews from
Brooke Cherie
★★★★★
Very happy with the service from booking to collection. Staff are friendly and professional. I would definitely recommend and I will absolutely call in the future for more collection services.
Jane Lovell
★★★★★
Quick service, friendly team, and job done.
Lisa
★★★★★
Professional, punctual and great job
Lari
★★★★★
Great experience, crew were friendly, efficient and great at what they do. Customer service was also amazing. Was by far the most reasonable quote I recieved and they went above and beyond for the job. I offered to help but they were happy to do everything themselves. Highly recommend!