Rubbish Removal Sutherland Shire
Finding yourself with rubbish removal needs around the Sutherland Shire? 1300 Rubbish can help!
As one of the top rubbish removal companies in Sydney, 1300 Rubbish has been servicing the Sutherland Shire for over 25 years with a 'hands-on' approach. From handling all the heavy lifting to ensuring a clean and tidy space at the end of the job, 1300 Rubbish has got you covered. This area is known for its beautiful beaches, cafes, homes, restaurants, commercial offices and other types of buildings, all of which 1300 Rubbish has the ability to service.
So, whether you are moving out, starting a business or on a building site, 1300 Rubbish rubbish collection services can cover all your rubbish needs for your peace of mind. We load all your rubbish onto a truck, and we even sweep up afterwards.
No job is too big or too small for our Sydney removalists. So, for an obligation free quote on your rubbish removal needs in the Sutherland Shire, visit our online booking page or call 1300 782 247.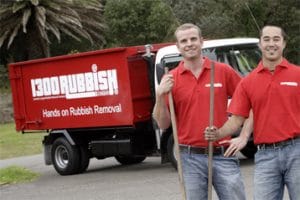 Our Comprehensive Rubbish Removal Services
If you are thinking about clearing a tight access area, piles of clutter, or stripping old features, you might need a waste removalist.
With a clean home, office, venue or construction site, 1300 Rubbish takes the stress out of your day with their wide range of removal services. The fuss-free clean up after we are finished removing the junk, will leave you ready to face your plans for the area head-on.
Here are our particular services for different types of rubbish removal:
Household Rubbish Removal Services
The feeling of clutter around your own home can be overwhelming and quickly builds up. At 1300Rubbish, our removal experts can pick up all your residential junk, such as old furniture, appliances, garden waste, e-waste, and green waste. Get that household rubbish out of your hair quickly and easily with 1300 Rubbish cheap rubbish removal services.
Commercial Rubbish Removal Services
If your Sutherland Shire bar or restaurant is getting new furniture, or your Cronulla office is completing a clear out, our friendly team are here to help. All commercial rubbish removal jobs are handled by our highly efficient team with many years of experience, who remove old office desks, chairs, kitchen and technological appliances with ease. Save yourself precious business hours and get back to doing what you do best.
Construction Rubbish Removal Services
If construction rubbish removal is what you are after, rest assured 1300Rubbish's team will provide serious quality services. Save your business time and effort through hiring our team for junk removal of bricks, rubble, concrete and scrap metal.
1300 Rubbish has you covered in all cases of home clean up, business furniture waste removal, and construction waste clear outs.
Rubbish Removal Sutherland Shire
Within the Sutherland Shire, we service from Kurnell all the way down to Heathcote, and everywhere in between! On a typical day, we could collect green waste from Bundeena, old washing machines from Cronulla and finish up with some residential waste disposal from Sutherland. Our junk disposal has no limits!
With a wide variety of businesses, including retail locations, cafes and corporate companies, Sutherland Shire residents are usually too busy to be able to deal with the hassle of rubbish removal. For your Sutherland Shire house, commercial space or construction site, let us do all the hard work!
We offer same day rubbish removal for all quotes in the Sutherland Shire, so give us a call and we can be there as soon as possible! A friendly call 15-30 minutes before arrival will confirm any costs and final details.
If you need a Sutherland Shire commercial or household rubbish removal service, we are here for your every need. Contact us today for a quick, obligation-free quote!
Responsible and Environmentally Friendly Disposal
Ethical, responsible removal of junk is one value that 1300 Rubbish takes very seriously. We are committed to thoughtful disposal by standards of the local, council and national regulations in place. Whether it's scrap metal, furniture, office rubbish, green and garden waste or plasterboard recycling, you can relax knowing that our team members relay your rubbish on to the correct processing facilities to either dismantle, recycle or dispose of correctly.
We jump at the opportunity to help you remove the junk that is not so easily disposed of on your own, such as e-waste and commercial items, leaving you feeling good that you have followed sustainable practices.
Our team ensures that all our rubbish removal service methods adhere to regulations and that there isn't a chance of financial penalties due to improper disposal.
Capable Team
A seamless service at an affordable price is what 1300 Rubbish delivers on. This is achieved through our 25 years of experience, where we have planned the most efficient ways to collect, transfer and dispose of all different types of rubbish, including recycling. We get the job done, which is why we can offer same day rubbish removal on many jobs.
As Australia's alternative to skip bin hire, put your job in the hands of a friendly, capable team of waste removalists. When you hire 1300Rubbish, you can expect a full-service removal and clean up from a motivated team. We are not finished until our customers are happy with their clutter-free space.
Here is our process:
1) The Pick Up
1300 Rubbish comes to remove the rubbish you need to get rid of, from residential rubbish removal, garden waste removal all the way to deceased estate rubbish removal. You do not have to lift a finger, as our team will lift, dismantle and detach all your items, even those hard to reach fixtures!
2) The Clean Up
After the waste materials are all gone, there is a clean up to be done in order to leave the space ready for you to use. For minimal downtime and improved safety, no glass shards, sharp materials or hazardous items will be left for you to deal with.
3) The Disposal
After we drive away, we take on the responsibility of correctly dismantling, recycling or disposing of your waste. We make sure to relay any e-waste or other regulated materials to government-owned or private facilities, and we always take a more environmentally friendly approach.
As well as providing an affordable way for Sydneysiders to get rid of rubbish, we also provide the peace of mind that when you have rubbish removed, it will be done so in a safe and responsible manner every time.
If you are based in Sylvania, Miranda, Kirrawee, Caringbah or surrounding areas of the Sutherland Shire NSW, call today for fast, hassle-free and responsible junk removal.
FAQs
How long does rubbish removal in the Sutherland Shire take?
We offer same day waste removal service for all suburbs in the Sutherland Shire area. Our professional team strives to provide a speedy and efficient service, so you can be sure that all that rubbish is removed quickly and efficiently!
What kinds of rubbish removal do you offer?
At 1300Rubbish, we dispose of all kinds of rubbish, from garden junk removal to household waste to construction debris. Give us a call or fill out the free rubbish removal quote if you have any questions about the waste you want to get rid of or the rubbish removal process.
Where does the rubbish get disposed of in the Sutherland Shire?
At 1300 Rubbish we always strive to be sustainable in our practices and rubbish removal processes.This means that we will take as much rubbish as possible to the closest recycling facility to be recycled. All materials and waste that cannot be repurposed is transported to a local tip or waste disposal centre.
How do I get cheap rubbish removal services in the Sutherland Shire?
We pride ourselves on providing affordable and reliable rubbish removal services across the entirety of Australia at 1300 Rubbish. Our payment process is based upon price estimation, so none of our customers receive bill shock. Part of our experience is ensuring simplicity and peace of mind, which is why we offer transparent pricing so you will know exactly what the job will cost.
Excellent
4.9
★
★
★
★
★
Based on 724 reviews from
Brooke Cherie
★★★★★
Very happy with the service from booking to collection. Staff are friendly and professional. I would definitely recommend and I will absolutely call in the future for more collection services.
Jane Lovell
★★★★★
Quick service, friendly team, and job done.
Lisa
★★★★★
Professional, punctual and great job
Lari
★★★★★
Great experience, crew were friendly, efficient and great at what they do. Customer service was also amazing. Was by far the most reasonable quote I recieved and they went above and beyond for the job. I offered to help but they were happy to do everything themselves. Highly recommend!