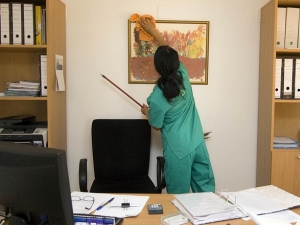 A clean work environment makes a world of difference when it comes to boosting employee morale and productivity. Do remember that well-maintained office spaces also create a good impression on clients and visitors in case you are in the service sector. However, keeping your office clean does require the participation and involvement of all the staff. Setting a few guidelines upfront could help make the initiative more effective.
Here are five tips that you can follow to ensure your workplace always stays in good shape! 
Clear Garbage Daily
A growing pile of garbage in the office space is definitely taboo. Not only is it a threat to health and hygiene but also tends to affect the indoor air quality and may get unsightly as well. Do make sure that trash is cleared every day as it does become more tedious the more the pile grows. Both food and sanitary wastes need to be compulsorily cleared out every day.
Tidy Up Desk Space
A tidy desk space helps staff focus on the job at hand. Rather than get distracted, trying to re-organise files, wipe down the desk or get rid of remnants of lunch, get the employees to eat food in the common lunch or dining area. If they're too busy to leave their desk, direct them to use disinfectant wipes to tidy up once they've done eating. Also, limit food and drink to the lunch space during celebrations to avoid messing up the working space. The smell of food tends to linger in the workplace for a while, especially in air-conditioned offices, making it quite unpleasant or distracting for others!
Go Digital
Paper documents and stationery majorly contribute to the clutter in offices, taking up quite some space. Left out in the open, they also tend to accumulate a lot of dust unless tidied up regularly. If you can afford to go digital, you might eventually be able to do away with loads of paper documents, free up space and make it easy to maintain a clean workplace. Alternatively, ensure that paper documents and office supplies are stored in closed spaces and not left unattended to collect dust over time.
Discard Office Waste Regularly
It's entirely understandable that it may not be wise to simply part away from broken pieces of office equipment or furniture and replace them with newer ones. Leaving them unattended for long is not ideal either. They also tend to take up otherwise valuable space, collect dust and also add to the clutter. While getting them repaired at the earliest does solve the problem, discarding those beyond repair is equally important.
Do note that electronic waste or e-waste comprising obsolete, faulty electronic gadgets, computers, batteries, printers, toners, etc. must be disposed responsibly and is not often thrown away piece by piece. Make sure to move all such office waste to a sparingly used part of the office, and contact a professional rubbish remover to clear the pile when it gets unmanageable!
Professional Cleaning Services
While housekeeping staff may efficiently take care of the daily cleaning routine of a workplace, availing the services of professional cleaners or rubbish removers from time to time helps improve the look and feel of the work environment. You do not necessarily have to wait for the rubbish pile to become unmanageable to seek the help of professional service providers. Their services prove valuable as they are comfortable handling all types of waste – be it garbage or electronic waste. Get your fast estimate from 1300Rubbish today.
Healthy and safe work environments make people more comfortable and feel that they are cared for. Minus the clutter and dust, the place feels more airy and bright and creates the right setting for employees to concentrate on the job.
Cleanliness and hygiene become all the more important in compact and confined office spaces, as the place can quickly get cluttered and stuffy. If your office space is a compact one, make sure your employees contribute their mite to keep the place clean and also increase the frequency of the cleaning routine to make sure the area looks impeccable and appealing always.
---
---