The Hands On Rubbish Removal Company
1300Rubbish take the stress and hassle out of rubbish removal for you.
Our teams are experienced in providing a fast, friendly and reliable service at an affordable price throughout Australia.
With more than 25 years experience, we understand the rules and regulations that surround many types of waste. We ensure that your rubbish, recyclables or waste materials, are disposed of correctly.
1300Rubbish takes pride in our service. We strive to be professional, friendly and punctual. With our experience and dedication to jobs both big and small, our service is hard to beat.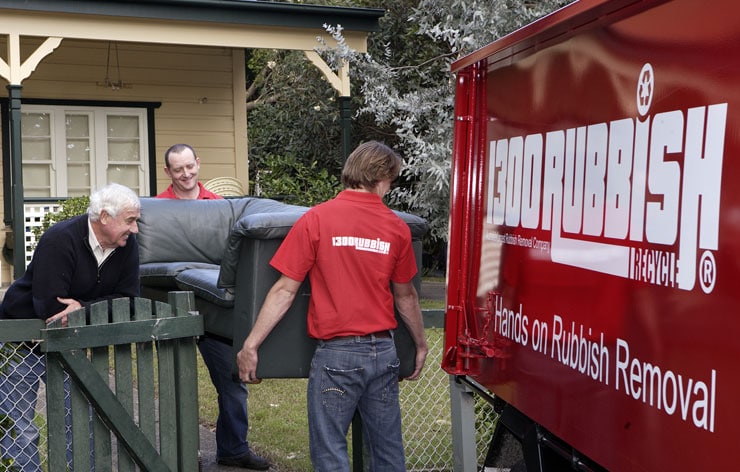 We provide a tailored solution to your rubbish problem. Using efficiency made possible through innovation and technology we offer prices that are hard to beat.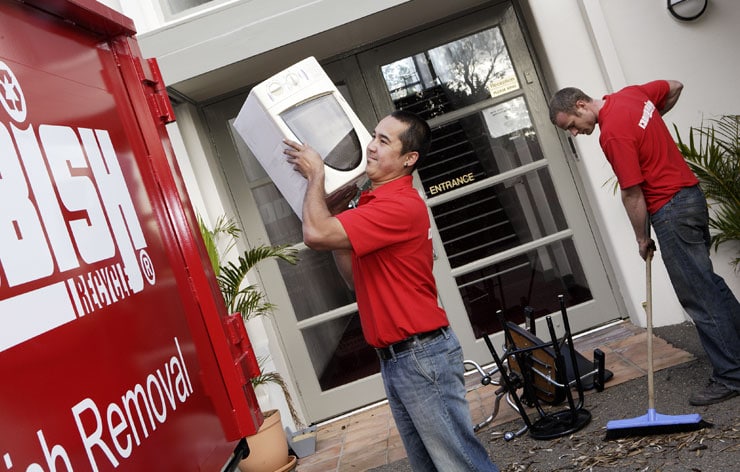 We Do All the Loading For You
You don't have to lift a finger – we pick up the rubbish where it lies. Once we've loaded your rubbish onto the truck, we do a thorough sweep-up.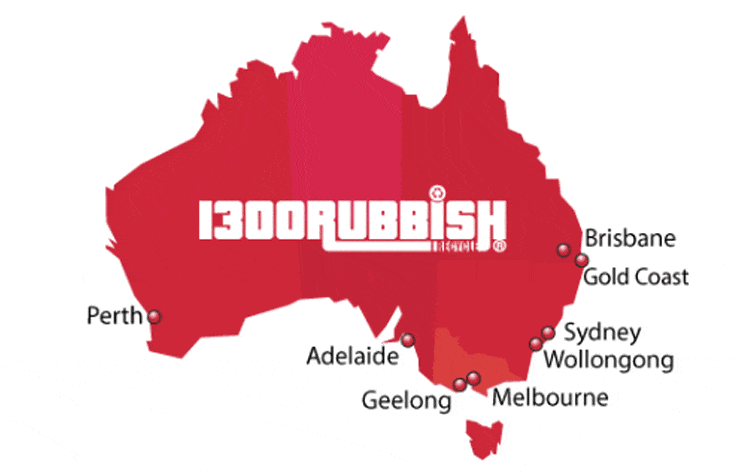 We service Sydney, Melbourne, Brisbane, Perth, Adelaide, Gold Coast, Wollongong and Geelong. To find out if we service your suburb click on the read more button below.
Melbourne Rubbish Removal
Our service
Read About Our Service
If you're in need of an efficient, affordable and fast rubbish removal in Melbourne, then you need to contact our professional and friendly removal team. We service all suburbs of Melbourne, including the inner city suburbs, and work with our customers to remove all of their rubbish, general waste or leftover construction and commercial materials, whether it be simple garden waste disposal, to the more complex office, construction and industrial waste.
We know Melbourne has experienced explosive growth over the past few years, and that has meant we have had to refine and redevelop our construction and commercial rubbish removal services to keep up with demand. Now all of our customers can expect an efficient workflow that allows us to complete tasks of almost any size within a single day.
Our Full-service Solution
All of our waste collection services are designed around making sure our customers don't have to lift a finger. Our experienced team members do all the heavy lifting and moving of your rubbish and unused furniture or products, as well as the final tidy up. You'll have a clutter-free space that's clean and tidy without needing to do a thing.
Part of the service is the final cleanup of your space and the ethical and environmentally friendly disposal of your rubbish and waste products. This means you have peace of mind that all of your items are disposed of in the most environmentally friendly way and as much rubbish and clutter is diverted out of landfill as possible.
A complete removal
We work all across Melbourne, across every industry, to offer our customers full-service rubbish removal solutions, no matter the scale or type of garbage. If you need more than simple garbage removals, like assistance with removal of old carpeting, windows or white goods, we can help with that too.
All items and rubbish that will fit into our trucks we can organise and take away for removal. That can extend from flooring, wood, white goods, batteries and more.
Leave it to us
We work as a full-service rubbish removal service in Melbourne. That means we remove all of your rubbish, appliances, commercial goods and other items you need to be disposed of, but we also help with the clean an tidy up afterwards.
If you need us to assist you in the physical removal of cupboards, shelving, windows and doors in your home, office or workplace, simply let us know and we will come entirely prepared.
We tidy up
We know that after rubbish removal there can be a lot of dust and general messiness left over. We deal with this too.
Our team will go over the area where the rubbish was removed with a broom, vacuum cleaner and cleaning agents to give it a tidy up so you can begin using the area again. It's that easy, we take care of everything.
We're experienced and skilful
Our ultimate goal is to provide a seamless, affordable and professional service for all of our customers, no matter the size of their project or where they're located. That means regardless of the difficulty, timeframe or amount of rubbish you need to have removed we always make sure we leave you with a flawless and clutter-free space.
You can expect us to arrive on time, have the entire removal complete and the cleanup commenced in just a few hours. Our customer's trust means a lot to us, and we strive to be the best in the business with every project.
All prices are transparent
All of our pricing and rates are based on your exact requirements so you won't be paying a flat rate fee designed for every project.
Our team will arrive at your address and assess what needs to be done, offer you a quote and if you're good to go with our pricing, simply let us know and we will begin removing your rubbish right away.
There's no chance of bill shock with us.
Our expertise and equipment mean we are able to assist in the removal of countless items ranging from:
View the list here
Garden waste
Palm fronds
Grass cuttings
Wood and trees
Construction materials
Bricks and wooden planks
Wiring
Damaged materials
Glass and windows
Commercial and residential strip outs
Carpet removal
Linoleum
Printers and white goods
White goods and bedding
Fridges, freezers and more
Mattresses
Bed frames
Desks
Deceased estates and hoarding waste
General clutter and rubbish
Safely disposed
When we begin removing rubbish, appliances and general clutter from homes, offices or industrial locations we make sure to sort the materials as we load them into our trucks, or back at our facility. This makes it easier for us to divert each category of items to the correct Melbourne rubbish disposal processing facilities and also to adhere to local regulations.
Recyclable materials like certain steels, glass and plastic will be taken to our facility and then relayed to a Melbourne-based waste and recycling centre for correct disposal and treatment.
Hazardous materials like cleaning agents, batteries, gas cylinders, pool chemicals and fertilises will be correctly removed and safely transported to our facility and then on to a chemical and hazardous disposal facility like the Port Philip Resource Recovery Centre or Moonee Valleys Transfer Station.
Capable Team
Contracting our experienced team means you're in good hands and the entire rubbish collection process will be streamlined, even if you need us to pull up carpet or take a door off.
Building our skills from years of experience in professional rubbish removal in Melbourne, for businesses, residents and industrial companies mean there's no better team for you than our local Melbourne team.
Our multi-faceted crew are able to assist with simple rubbish removal, the physical removal process involving tasks like removing carpets, doors and more, as well as the final cleanup after the removal process is complete.
If you're considering professional rubbish removal, there's no better and more experienced team than ours.
Suburbs we service
We extend our services across all of Melbourne on a daily basis. Servicing suburbs, industrial estates, retail stores and offices from Ashwood to Glenroy and the CBD.
You no longer need to hire a skip bin, simply give us a call and we can arrive at your address and remove your rubbish then and there.
Melbourne Suburbs we Service
From Armadale to West Footscray we have Melbourne rubbish removal covered. On a typical day we'll collect unwanted furniture in Burnley, green waste removal in South Yarra, rubbish collection in Toorak and some waste disposal in Malvern.
---
We are the skip bin hire Melbourne alternative – we pick up the rubbish where it lies. When you see our red trucks around Melbourne – give us a wave, we are some of the friendliest Melbournites you'll meet.
Melbourne Suburbs we service: