What does a confidential waste disposal service include?
Confidential waste disposal services most often include secure document shredding, however any kind of rubbish can be removed and disposed of with covertness and security in mind. This kind of rubbish disposal can remove the possibility of identity theft and financial data or sensitive business information being leaked.
What waste can be disposed of confidentially? 
In theory, any kind of waste can be disposed of confidentially, including e-waste, office furniture and even green waste. However, it is most common to have business records, confidential data and documents disposed of through the use of secure shredding services. At 1300 Rubbish, we can securely destroy the following in bulk:
Electronic waste disposal
Confidential documents
Old documents
Office supplies, items and furniture
Sensitive information that can be contained within/on large objects
Why does rubbish need to be disposed of securely?
Rubbish from offices, businesses and other institutional spaces may need to be removed and disposed of with confidentiality in mind because of many reasons.
For a regular company, business records, papers or financial data could have private or personal information on it, meaning it should not be available to the public. Disposing of this kind of information in a regular bin, through a skip bin service or a council collection does not guarantee security, and access to this information may jeopardise a company. This is why ensuring that documents are completely destroyed is imperative for many companies.
Additionally, some companies or businesses have larger items and even office furniture that should not be made public or re-used by other companies for copyright, safety or confidential reasons. Making sure these larger items are removed and destroyed is extremely important to many establishments.
These kinds of challenges should be handled by professional rubbish removalists, who are properly trained in confidential removal of rubbish.
The 1300 Rubbish removal process 
Book in with our experienced team
Fill out our contact form, or simply call us, we are available 24/7.
Once you have organised a day and time that suits you, our rubbish removalists will remove all your rubbish. We do all the heavy lifting and even help with the detachment of drawers and cabinets from their fixtures or walls. It's the easiest and quickest waste removal service!
The Cleanup
Once all of your rubbish is removed, we clean and sweep the space so it's left entirely ready for you to enjoy. Not only does this mean you can use the space right away, but it ensures a safe environment for you and your family.
Environmental Disposal
Our team understands waste collection and disposal regulations. Whether it's e-waste, furniture, office rubbish or secure document destruction, you can rest assured that our team members relay your rubbish on to the correct processing facilities to either dismantle, recycle or dispose of correctly.
We take the ethically and environmentally friendly approach to disposal of rubbish and document destruction seriously and want to ensure our customers know this. An ethical rubbish disposal reduces your impact on the environment as well as ensuring that your secure document destruction is carried out seamlessly.
Our trusted team 
With over 25 years of experience, you can be sure that our fully-trained team at 1300 Rubbish knows how to remove confidential papers and rubbish in the most effective way possible.  We will collect, transfer and dispose of all of your rubbish so that you won't have to worry about your information or items being insecure.
Fill out a free enquiry form or give us a call today for more information on confidential waste disposal.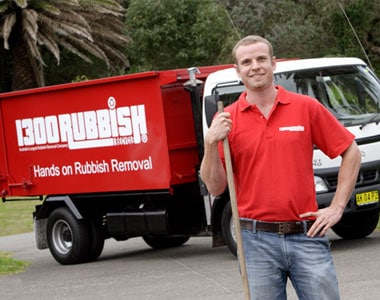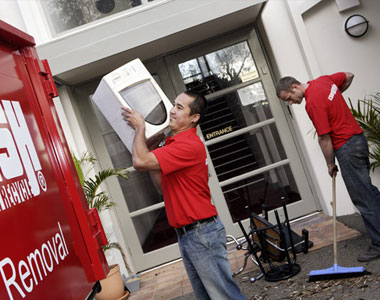 Excellent
4.9
★
★
★
★
★
Based on 724 reviews from
review us on
Brooke Cherie
★★★★★
Very happy with the service from booking to collection. Staff are friendly and professional. I would definitely recommend and I will absolutely call in the future for more collection services.
Jane Lovell
★★★★★
Quick service, friendly team, and job done.
Lisa
★★★★★
Professional, punctual and great job
Lari
★★★★★
Great experience, crew were friendly, efficient and great at what they do. Customer service was also amazing. Was by far the most reasonable quote I recieved and they went above and beyond for the job. I offered to help but they were happy to do everything themselves. Highly recommend!
Levi Gerard
★★★★★
They're great and got back to me with a quote fast.I paid them to get rid of a disgusting old mattress from a previous tenant and they got rid of it without fuss.Way easier than hiring a ute and doing it myself. Nice people too.Would definitely use their services again.
Christine
★★★★★
This company was great. Organised and reasonably priced. The removalist (Tony) was on time, super quick, communicated well, and friendly.
Susan JW
★★★★★
Very fast, efficient and arrived within the timeframe. Will book again most likely after the Christmas carnage.
Debra Hollinger
★★★★★
Leon & Simon got straight into emptying a very old shed. Hard working, professional & very nice young men. Thank you for your hard work.Deb
bPW BPW
★★★★★
Best rubbish removal I have ever used
Sally Steele
★★★★★
Top service from booking until delivery. Such lovely service and nothing was a bother to the driver. Tnx Highly recommend
Garry Wishart
★★★★★
Thanks Sam & team. 25 years of junk, 2 trucks full & all had to be carried down lots of stairs. 👌
Julz A
★★★★★
Fantastic across the board! Friendly service, easy to book and the nicest delivery person. Definitely using this service again!
Elaine Meirelles
★★★★★
Best price on the market.The guys came on time, reliable, friendly and polite. The job was done in a blink.Thank you for you help.
Jon Field
★★★★★
No fuss, arrived when they said they would and got the job done. Sam the pick up driver was great to deal with 👍
Noel Thurlow
★★★★★
Very efficient. On Time
Maria Caputo
★★★★★
Excellent customer service, the guys arrived right on time, they were professional, polite and tidy.. highly recommended!!