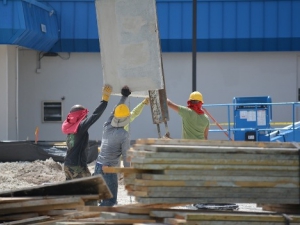 When it comes to dealing with construction waste, there are more than just ethics telling you that it's time to recycle. There is also a whole suite of rules, regulations and compliance laws that you must be following, all of which typically require you to recycle.
If you're a site manager, construction business owner or just about anyone else dealing with construction waste, there are a few things you should know. The first is that not everything can be recycled in its entirety, so there are deconstruction processes you'll need to undertake. The second is that depending on your location there may be a host of other requirements you need to meet.
For those who would like some tips, tricks and ideas for recycling your construction waste, take a look below. The process might not be as tricky as you'd have thought.
Be Smart About Demolitions
To start, it's always better to work smarter, not harder when recycling is involved. If you contaminate a material, make a mistake early on in the project, or neglect to follow guidelines, you'll be having a tough time when it comes to construction waste removal.
We suggest that if you're clearing a site or demolishing an existing building that you first determine whether it's in your best interests to deconstruct a building, rather than destroy it. This way you're saving all of the materials and more easily able to transfer them into their relevant recycling processes.
There's nothing slower and more costly than having to hire someone, or a team to sift through the rubble and pull out recyclables so you're able to meet waste regulations.
Know Where Your Recyclers Are
A second tip is to understand where your recyclers are before you begin a project. This way you'll know how often you need to make a trip to the recycling centre. If it's a long drive, you'll know that each trip needs to be particularly worthwhile. That means a whole lot of materials packed up for each trip so you're not wasting hours and hours on long recycling trips.
It will also pay off to reach out to them beforehand so that the recyclers are aware of your team being on the way with a whole truckload of recyclables each day. This way you're not going to be turned away or have to wait in long waiting lines.
Use Recycling to Save Money
If you're already on top of your recycling processes and know what you're going to do in order to collect your construction waste, then work to make it pay!
A vast majority or recyclers across Australian cities will pay you for certain goods such as metals, so make these businesses your priority. You might be able to save a few hundred or even thousands of dollars off the cost of a project if you make all of the materials work for you – rather than just offering them up for free.
A good tip here is to make sure you do all of the separation work onsite. This way the recyclers are more likely to offer you top dollar for the materials as they're not going to have to work hours on splitting the recyclables.
Why Not Reuse the Materials
For those construction businesses who are looking to reduce their impact and also save money, there's the option of reusing the waste you've collected and placing it back into the project. Things like correctly salvaged wiring and even piping can be reused in the current project you're working on, or saved to be used in a new one.
This becomes particularly useful when it comes to materials that are hidden. They may not be aesthetically pleasing, but if they're hidden in walls or floors, they're not going to detract from the appearance or quality of your construction project. And to top it all off, you'll be saving a lot of money.
Have a Collection Company Recycle For You
To conclude our five tips for recycling construction waste, you should consider giving our 1300Rubbish team a call and receive a free quote.
You can book in a collection, sort out the construction waste and let us do all the heavy work for you. This way you're meeting regulations, doing your bit for the environment and saving time all in one.
---
Fast Quote:
---