Having a good working air conditioning system in Australia is necessary to get through the summer heat – and it is a blessing that we can buy these units so easily. However, when it comes to removing your old air conditioning unit, it can be tricky to get it right and it may not feel like a blessing at all.
Disconnecting the refrigerant or compressor of your unit can be harmful, but it is a legal requirement to properly dispose of your air conditioner. You cannot simply take your old air conditioning system out with the trash. 
In this article, we will be discussing everything you need to know about removing and disposing of an unwanted air conditioner.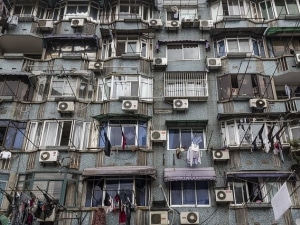 Air Conditioners and White Good Hazardous Waste
Air conditioners are classified as white goods which contain hazardous waste and it is the responsibility of a household to ensure they are properly disposed of. It is a requirement to safely remove hazardous refrigerants before you recycle or dispose of the old unit as they can be harmful to the environment.
Things to Consider Before Removing an Air Conditioner
When thinking about upgrading your air conditioning system, it is important to weigh up the environmental impact and cost of keeping your old unit versus upgrading to a newer model. The following factors will help you determine whether or not you should upgrade or repair your air conditioner.
The age of your air conditioning unit
Typically, most air conditioning units can last 15-20 years if they are installed correctly, maintained well, and cleaned regularly to ensure free airflow. If your unit is not near the end of its lifespan, it may be cost-efficient to book repairs and maintain it regularly.
The last annual maintenance check
It is highly recommended that your entire HVAC system has an annual maintenance check. If you have missed your maintenance check, it could give your unit a new life rather than upgrading to a new model.
The energy consumption of your old air conditioning unit
New air con units are built to be energy efficient and can typically use 1,710 watts/hour compared to 15-year older units that use 6,000 watts/hour. If your bills are high and you are looking to reduce your carbon footprint by using less energy, it may be worth upgrading to a new air conditioner with an energy-efficient star rating.
Disposing of your air conditioner unit properly
Air conditioners require careful removal and disposal as they can cause physical harm to you and the environment if disposed of incorrectly. It is a household's legal requirement to ensure old air conditioning units are properly disposed of.
Here are the steps you will need to take to remove your air conditioner properly:
1. Remove the air conditioner from the wall
A relatively easy step is to remove the air conditioner from the wall without causing physical harm to yourself.
2. Disconnect the compressor  and empty refrigerants
It is a legal requirement to remove all hazardous refrigerants before disposal (which is not an easy task for a standard household to complete). It is necessary that this is carried out by a professional.
3. Recycle materials
Wherever possible, we should be recovering and recycling heavy metals and plastics to reduce the amount that goes to landfill.
What are your options for air conditioner removal?
Not many households will want to risk improper disposal of hazardous waste, but there are a few options that can be stress-free.
Removal Services
Rubbish removal companies can safely remove and dispose of your old air conditioner. It is a great way for you to save time as they will know how to disconnect, empty the hazardous refrigerants and salvage any materials worth recycling.
Recycling centre
Most local recycling centres will accept old air conditioners as long as the refrigerant has been reclaimed. Due to the hazardous gas, the refrigerant must be removed by a trained professional so this option will require you to go to two different places to properly dispose of your unit.
Donate
If your old air conditioner is still in good working condition, you could donate it to charity or to a household in need of a unit. With this option, you will need to safely remove the unit from the wall yourself.
Local Council Collection
Some local councils in Australia will accept white goods in their pick-up service. It is illegal to leave your old air conditioner on the curb, so book a pick-up with your local council and take it outside no more than 24 hours before your selected time slot.
Benefits of using an air conditioner removal service
As you can see, the steps to remove and dispose of your air conditioner are not straightforward. By far, the most effortless option is to hire an air conditioner removal service when you look at these benefits:
1. Minimum Fuss
There are a lot of steps involved in air conditioner removals, with this service all you need to do is select your time slot after obtaining your free quote.
2. Safe and proper removal
You do not need to worry about following the legal requirements to remove hazardous refrigerants, the removal service will complete this for you.
3. Minimising your contribution to landfill
Nobody wants to mindlessly contribute to landfill and impact the environment. With a removal service, you can be assured they will know what can be salvaged and recycled.
4. Dispose of unwanted furniture
Rubbish removal services can usually take most bulky items. Save yourself time and book in your old unit and furniture at the same time.
Get in touch with 1300 Rubbish
Contact our office now at 1300 Rubbish (1300 78 22 47) for all your air conditioner removal needs and concerns. Our friendly and professional customer service team will answer all your queries and even provide you with a no-obligation quote.
You can also fill out our online form with your contact details so our team will know how to reach you.