Whether you want the newest laptop or your device has finally reached its 'end of life' stage, laptop disposal can be a tricky dilemma. There's the question of destroying personal files and data, where to actually dispose of old laptops, and how did it even die in the first place!
And the scariest problem of them all is how to throw away an old laptop that won't even turn on anymore. 
In this article, we will guide you through every problem you could encounter when disposing of your old or broken laptop.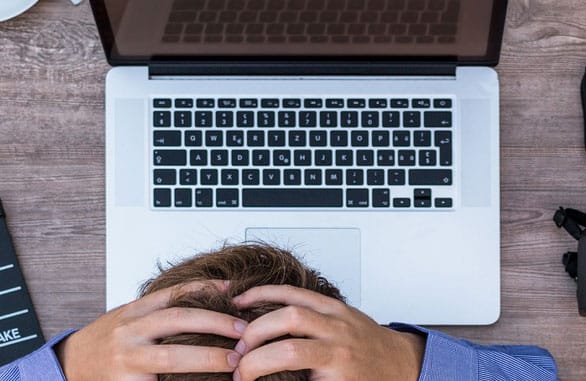 Why Did Your Laptop Die? 
In the age of technology, a computer or laptop is essential for the business, work and personal parts of your life. When your laptop doesn't turn on or has abruptly died, it can be very frustrating and difficult to complete day-to-day tasks.
There are many different causes of a laptop dying- it may be your power adapter, laptop screen, battery or a faulty motherboard component. It could just be that your laptop has reached the 'end of life' stage, meaning that its software program is too old to function.
The best option, take your laptop back to where you bought it from. You may still be under warranty, or it could be a simple, quick fix done by the experts.
However, if it is officially dead, it is now waste and must be disposed of.
What Kind of Rubbish is a Laptop?
Once you know your device can not be fixed, your dilemma becomes a waste disposal problem. But what kind of rubbish is a laptop? Because it is an electronic product, laptops and computers fit into e-waste or electronic waste.
E-waste is a type of waste that encompasses many different materials. While it must have some sort of electronic element, such as an operating system or motherboard, e-waste may contain ceramic waste (glass, optic fibres), precious metals and even natural elements such as wood. E-waste can be recycled, and different materials can be reused for making new computers in the future.
For laptops and old computers, e-waste includes data cables, chargers, head or earphones, hard drives and computer monitors.
Can You Recycle Your Laptop?
Laptops, computers and other e-waste can be recycled. In most disposal processes, e-waste is sent to recycling depots that sort and process electronic devices. E-waste can contain precious metals, ceramic materials and electronic parts that can be reused, meaning that recycling your laptop is very beneficial for both the future production of electronics and sustainability.
Before You Dispose of Your Laptop
Save All Your Files
If your old laptop does still work, but you don't need it anymore, don't forget to save all your personal files and data. Whether it's old photos, downloaded applications or saved passwords, making sure your files are safe and secure is of the utmost importance.
Using storage applications is always a great option for easy transfer of data. A good example of storage solutions is such as Google Drive, Dropbox or iCloud. You can usually automatically sync your data from an old device to a new one with these storage solutions. If you want something more physical, consider getting an external drive/external hard drive to upload and save your files onto.
Disconnect From Personal Items
Disconnecting from personal items and products is also a very important step before disposing of your laptop or computer. Making sure that you are logged out of all of your email, subscription and/or work accounts is the first way to begin to disconnect.
Of course, disconnecting from your home and work wifi is another big one. Many people may need to unpair Bluetooth devices, such as headphones, keyboards and mouses.
Protecting Personal Information and Data 
To dispose of a laptop safely, it is important to take into consideration how you are protecting your personal information and data. Electronic devices like laptops and computers have immeasurable amounts of information saved in their software, including:
Passwords
Personal information (names, addresses, phone numbers, email addresses)
Credit card and bank details
Downloaded files, music, movies and photos
Downloaded applications
Emails and text messages
How to Wipe Data if Your Laptop Won't Turn On
If your laptop or old pc is officially dead, it can be difficult to access your data to wipe in the first place. Since the laptop is no longer accessible, neither is your personal information or data. Some people are still wary of throwing away electronic devices like this for fear of a data security breach.
One way people tackle this problem is to physically destroy their electronic products before handing them over for disposal. Our recommendation is to always try and keep your waste as tidy and safe as possible, but if you're going to have a go with a hammer, make sure to wear safety goggles!
Data Recovery
If you would like to try to wipe data or recover your data from your dead pc or laptop, the best way to do it is to actually remove the hard drive manually yourself.
While all laptops are a little bit different, they should all have the main access panel at the bottom of the device. Unscrewing the main access panel should allow you to view the computer's main operating system. You can then easily remove the hard drive.
From this point, you can either choose to keep the hard drive as is or go through the process of data recovery. You can recover all your personal files by plugging the removed hard drive into another pc or laptop. From there, you can either wipe and erase all your data or recover your data and save it by placing it in a storage application. Or, you could just leave all the files on the hard drive to access whenever you would like!
Types of Laptop Disposal 
Disposing of old computers is a bit different to normal rubbish. Because electronic devices fit into the category of e-waste, laptops cannot just be thrown away in your garbage bin. Making sure e-waste is disposed of properly ensures that its materials can be recycled and reused as much as possible.
Council Collection and Pick Up
Your local council will usually have collection points for e-waste that includes old laptops and old computers. Most council collections have electronic end-of-life recycling, meaning that all the materials from dead computers can be reused for new computers or laptops.
Pick-up services from the council can be done annually or bi-annually. It is always best to check your local council website to find dates and the kinds of rubbish they are willing to pick up.
Taking It to the Tip
Of course, taking your rubbish to the local tip is always an option. Taking rubbish to the tip yourself is great if you have a large amount of garbage to dispose of. The tip may not take recycling into account, so adding e-waste to landfill can be a problem. E-waste actually makes up around 70% of toxic waste, which damages both the natural environment and human health.
A tip for the tip, if you have many different kinds of waste to get rid of, you will have to sort the waste yourself!
Donation
If your unwanted device is still in good working condition, donating your old laptop or computer to charities, nonprofits and op-shops is a great way to repurpose your electronics. Better yet, hosting a garage sale or selling your device on an online marketplace might get you some extra money!
Collection Services
A rubbish removal service is the way to go for any amount and type of rubbish. At 1300 Rubbish, waste disposal is our forte, with recycling and sustainability a top priority!
Our waste collection services cover all kinds of waste, including taking any kind of e-waste, whether that be computers, laptops, white goods, medical equipment or kitchen appliances. We always ensure that collected e-waste is processed properly at one of the recycling depots we work with. We offer our services nationwide with our locations for rubbish removal services based mainly in urban and city areas.