Getting rid of your rubbish every week is often a tedious task. After a long day at work, the last thing anyone wants to deal with is a heavy rubbish bin filled with the week's smelly leftovers.
However, forgetting to take the bins out can make the task a whole lot more complicated. Whether it be your general household waste, recycling or the monthly green waste collection that you've missed, having a pile-up of rubbish can be frustrating and even damaging to the environment.
In this article, we will explore some of the potential consequences of missing trash day and offer some tips for properly disposing of your trash.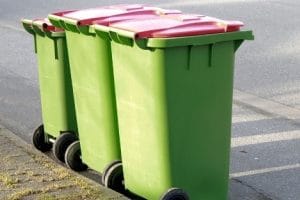 When is Your Bin Day? 
Of course, one of the first things to work out when you move into a new place or suburb is when your bin day is. Weekly rubbish removal from council garbage trucks is most common in urban and metropolitan areas.
Working on an alternating cycle, most council rubbish removal has separate bins for household garbage (including food scraps, some plastics, and non-recyclables), recycling (plastic, paper and metal) and green waste (grass, plant cuttings, wood etc.).
The best way to work out which bin and what day your bins need to be out is to visit your local council website. Bin collection days may change or skip a week if there are public holidays, such as Christmas day or New Year's Day, or notified events occurring in your area.
And rural and country areas, waste disposal is a whole different story- they usually don't even have a bin day! Most people must dispose of their waste and recycle themselves.
Alternative Disposal Options: 
If you've missed out on bin collection day and your piled-up waste is too much to wait for next week, there are several ways to get rid of your rubbish. Alternatively, if you have undertaken a spring clean or house makeover, you might have too much rubbish for your bin altogether!
Here are the top 5 ways to dispose of your waste:
1. Report Missed Collection to Your Council 
Reporting a missed collection is only done if your garbage truck didn't show up on your designated waste collection day. This could be a mistake on your council's part, or your bin was hidden from view for any number of reasons.
Filling out a form on your local council's website will inform your council of the problem, and you should receive a solution. This solution can involve another collection for you within a couple of business days.
If you've got a heap of green waste and food leftovers, the best thing to do is put it back into the garden!
Forgetting to take out the trash means that your kitchen scraps might ferment and deteriorate in your rubbish bin. Investing in a compost bin is a great way to cut down on your general garbage, feed your garden, and of course, let you off the hook when you forget to take the rubbish out. A compost bin can have many different kinds of rubbish in it, including:
Peels of vegetables and fruits
Remains of fruits (not including citrus)
Shredded paper
Crushed eggshells
Human or animal hair
3. Take It to Your Local Tip 
Of course, taking your rubbish to the local tip is always an option. It can be even more of a tedious task than taking out the rubbish in the first place, but if you've missed bin collection for the week, it may be your best option.
Taking rubbish to the tip yourself is great if you have a large amount of garbage to dispose of. But be warned, if you have many different kinds of waste to get rid of, you will have to sort the waste yourself!
4. Hire a Rubbish Pick-Up Service 
A rubbish removal service is the way to go for any amount and type of rubbish. At 1300 Rubbish, waste disposal is our forte, with recycling and sustainability a top priority!
The frustration of forgetting to take out the trash will be eased because we come straight to you. Our waste collection services cover all kinds of household waste disposal, including general waste, recycling and green waste. We offer our services nationwide with our locations for rubbish removal services based mainly in urban and city areas.
How to remember when to take out the trash
Remembering to take out the trash can be difficult during a busy week. Setting reminders on your phone or calendar is always a great way to keep your schedule on track.
Councils often provide a calendar for bin collection services, with collection dates and type of bin listed. This calendar is great to keep on the fridge or a noticeboard in a communal space.