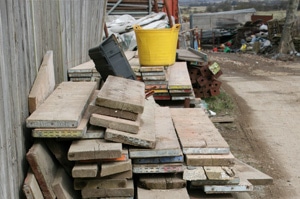 Have you just completed some renovations or just done a bathroom stripout and the builder has left the rubbish on site, or you are a builder yourself looking to rid of some construction and demolition debris.
Council pickup and Builders Rubbish
Local councils will generally include builders rubbish and other heavy building waste on the list of "do not put out" on Council cleanup along with Gas Cylinders and Car Tyres. This means its up to the builder or the client to get rid of the rubbish – and if not done efficiently it can end up costing more than it should.
Professional Builders Rubbish Removal
Our team can take builders' wastes for landfill disposal, such as; concrete, tiles, bricks, sand, soil, pavers, plasterboard, wood and general mixed builders rubble.
No heavy lifting is required by you, we will clear all types of rubbish and builder's waste from anywhere in your property and sweep-up fully before we go.
Builders Rubbish Removal Sydney, Melbourne, Adelaide, Brisbane, Perth & Gold Coast
---
Get a fast obligation-free quote, call our friendly operators – 1300 78 22 47
Or get a quote via email using the form below:
---