Comprehensive Rubbish Removal Services 
Whether your home needs a good spring clean or you're in the process of clearing out the office, Blacktown residents are in safe hands with us! Our comprehensive range of services means that we can tackle any waste collection job with ease. Our services include regular household waste disposal, as well as commercial and construction waste removal as well.
And the best part is, once all of your rubbish is removed and disposed of, we will do a sweep up and tidy of your space, creating an area that is safe and clean to be enjoyed again!
Our most popular services include:
Residential properties can often have built-up waste, unwanted items or clutter that takes up space in the home. 1300 Rubbish takes the stress out of removing rubbish yourself with our excellent and speedy removal service.
Whether you have unwanted items to get rid of, such as old furniture, appliances or e-waste, or general clutter and green waste that is taking up space, 1300 Rubbish is the perfect option!
Whether you're a Blacktown business that needs a clearout or you're looking to update old furniture, 1300 Rubbish is fit for the job. Our commercial or office rubbish removal includes mass removal of furniture such as office chairs, desks, appliances and much more!
Construction rubbish and demolition waste can create an unsafe environment for construction site workers and employees. This rubbish removal requires professionals that understand the importance of reducing hazards and risks.
At 1300 Rubbish, our professional team is dedicated to creating risk-free environments through our construction waste disposal process. This includes concrete, general construction debris and demolition waste. Better yet, our friendly staff come straight to the rubbish, so there is no need for hiring a skip bin and wasting time dealing with approval from Blacktown city council.
Brooke Cherie
1701829999
Very happy with the service from booking to collection. Staff are friendly and professional. I would definitely recommend and I will absolutely call in the future for more collection services.
Lisa
1700950515
Professional, punctual and great job
Susan JW
1700002804
Very fast, efficient and arrived within the timeframe. Will book again most likely after the Christmas carnage.
Debra Hollinger
1699426438
Leon & Simon got straight into emptying a very old shed. Hard working, professional & very nice young men. Thank you for your hard work.Deb
bPW BPW
1699225587
Best rubbish removal I have ever used
Elaine Meirelles
1697688324
Best price on the market.The guys came on time, reliable, friendly and polite. The job was done in a blink.Thank you for you help.
Rubbish Removal Blacktown
Blacktown is a well-established city in the west of Sydney, New South Wales. For Blacktown locals, this suburb is a well-known hub for hustle and bustle, so it's not surprising that rubbish and waste is the last thing on people's minds!
For Blacktown residents who don't have the time to dispose of their rubbish, or need a few extra helping hands, let 1300 do all the heavy lifting and hard work! Keep your space clean, tidy and free of clutter with our excellent rubbish removal Blacktown service.
Our skilled rubbish removalists will take care of all your household, commercial and construction rubbish. Whether you have garden waste, old furniture or appliances, or even some demolition waste to dispose of, 1300 Rubbish is ready to take on the challenge!
Responsible & Environmental Disposal 
At 1300 Rubbish, we understand the importance of keeping up with sustainable practices, which is why we always strive to recycle and reuse waste where possible. You can rest assured that we always take the necessary steps to ensure your waste is collected and disposed of in the most environmentally-friendly way.
After collecting your rubbish from your household or office, we sort and process the waste and send off any reusable or recyclable items to the nearest recycling centre.
We take the ethically and environmentally friendly approach to the disposal of e-waste, plastics and cabling seriously and want to ensure our customers know this. A professional team and ethical rubbish disposal reduces your impact on the environment and can prevent fines or penalties for improper rubbish disposal.
Our Trusted Rubbish Removal Process
Our team of professional removalists are highly trained to provide a simple and effective service. We value efficiency and friendliness to our customers above all else and maintain a consistent respect and responsibility for every job we take on.
At 1300 Rubbish, we strive for honesty in all that we do, which is why we're always transparent with our pricing: the rubbish removal cost for Blacktown residents can be easily accessed through our online quoting register. Simply follow the steps below:
Call our friendly team or fill in our online form, and we'll give you an obligation-free estimate of how much your job will cost.
Choose a time that works for you. We offer same-day rubbish removal for all areas of Sydney.
Our team will call ahead 20-30 minutes before they arrive to re-confirm the cost before they start the job.
Once we've loaded up the truck with any waste you want removed and completed a thorough sweep-up, we'll dispose of the rubbish in the most environmentally friendly way possible: recycling and composting wherever we can.
Trusted Campbelltown Rubbish Removalists 
1300 Rubbish is here to remove the need for Blacktown city council approval to clear household rubbish. There is no need for skip bin hire or waiting for council collection day with our quick and efficient services. For Blacktown residents who want their rubbish collected as soon as possible and for the most affordable price, we're here to help!
We service the entire Blacktown area, so if your Blacktown home, office or construction site needs a clear out, give us a call today for your free quote.
We don't want any of our customers to experience bill shock. That's why we always make sure our pricing is transparent and honest, so you know the exact cost of your rubbish removal service. Once you've determined that the price is right for you, all you need to do is let us know when to start!
At 1300 Rubbish, we strive to have the most efficient ways to collect, transfer and dispose of all different types of rubbish, from office e-waste to construction site bricks and steel. We get the job done with efficiency and speed, which is why we can offer same-day rubbish removal on most jobs.
You can expect our Blacktown rubbish removal team to be friendly, professional and prompt on arrival. We can guarantee our service will be second to none! Our mission is to provide a cheap rubbish removal service that leaves our customers happy, clutter-free and left with a great clean space. Call to see why we're the best in the business!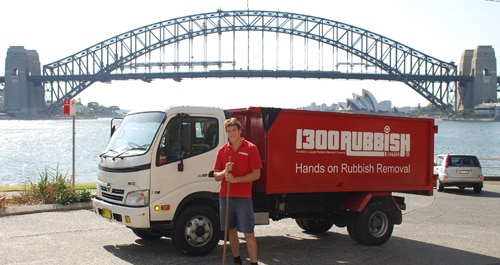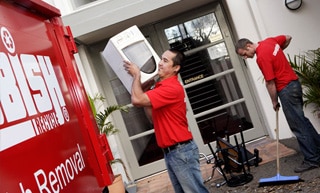 DO YOU SERVICE MY AREA?
These are the suburbs we service in Sydney:
Do We Service Your Postcode?
Check here:
Frequently Asked Questions
Is This the Cheapest Rubbish Removal Service in Blacktown?
We consider ourselves to be one of the most affordable services that provide waste removal in Blacktown and greater Sydney. Our mission to provide cheap and in-expensive rubbish removal means that you can count on us to give you the best price possible.
What Services Do We Offer?
We offer a whole range of services for residential, commercial and construction sites. Whether you have clutter left over from a spring clean or you need an entire work site cleared, we're here to provide the best rubbish removal service!
Can I Get a Free Quote?
Yes, of course! Call us anytime or simply fill in our online enquiry form.
Excellent
4.9
★
★
★
★
★
Based on 724 reviews from
Brooke Cherie
★★★★★
Very happy with the service from booking to collection. Staff are friendly and professional. I would definitely recommend and I will absolutely call in the future for more collection services.
Jane Lovell
★★★★★
Quick service, friendly team, and job done.
Lisa
★★★★★
Professional, punctual and great job
Lari
★★★★★
Great experience, crew were friendly, efficient and great at what they do. Customer service was also amazing. Was by far the most reasonable quote I recieved and they went above and beyond for the job. I offered to help but they were happy to do everything themselves. Highly recommend!