You didn't move to beautiful Rose Bay to be up to your ears in rubbish, so let us take the trash off your hands. We are experts in rubbish removal because we've been taking Australia's trash out since 1989. And with over 25 years of experience and countless satisfied customers, 1300 Rubbish is the dependable, cheap rubbish removal service that Australians know and trust.
If you are a Rose Bay resident looking to get rid of any unwanted items, waste or furniture, make us your first call. 1300 Rubbish is a friendly, professional rubbish removal team that is excited to assist you in the never-ending war on waste. Our expert teams don't consider any job too big, too small, too easy or too complicated, and we even recycle and dispose of your waste ethically. We are Sydney's best rubbish removal service and can usually offer same day rubbish removal around Rose Bay. If there is something in your house, office or job site that you want gone, we can make that happen quickly and at an affordable price.
Comprehensive Rubbish Removal Services
Cleaning up junk,  rubbish removal and disposal can be a headache but our seamless service takes the stress and worry out of the process and makes your life simple. We know you need to save time, money and get rid of those unwanted items or waste quickly, and we have the most efficient ways to collect, transfer and dispose of all different types of rubbish, from recycling and office e-waste to construction sites, bricks and steels.
Our most popular rubbish removal services include:
Rubbish does tend to pile up, and when you're moving out of your house or your lease is up, the idea of multiple runs to the tip can be daunting. Your Rose Bay home deserves the best rubbish removal service to take that load to the landfill for you. It doesn't matter what it is: household items, old furniture, appliances and white goods like refrigerators and other appliances, e-waste, household rubbish, cardboard boxes or mattress removal- If you want it gone, our trucks will get it gone! 1300 Rubbish can handle regular old household rubbish collection to full-blown hoarding cleanups.
There is plenty of junk and waste in this world and it doesn't just stop in your beautiful Rose Bay home. Businesses produce more waste than any family home ever would, and that needs to be taken care of too. Fortunately for you, our rubbish removal team has a variety of services, which means we can clean and declutter any space, including your fancy Rose Bay office. We can move, furniture, chairs, desks, refrigerators, collect and recycle or get rid of any junk and make your work environment a nice place to be.
Some jobs are too big to do with just your dad's ute.  Sydney building sites can really rack up the trash, and our friendly team are more than happy to do the grunt work for you. Construction jobs are best left to professionals, and the team at 1300 Rubbish are experts in removing and disposing of construction waste, from brick rubble, sheet metal and steel, to concrete, recyclable materials and general waste.
You just tell us where and when, and we will do the rest.
DO YOU SERVICE MY AREA?
These are the suburbs we service in Sydney:
Do We Service Your Postcode?
Check here:
Responsible & Environmental Disposal
1300 Rubbish is not like some other gung-ho operators out there in New South Wales. We are experts in waste collection and our disposal service strictly adheres to government regulations no matter if it's dealing with household waste, hazardous waste, green waste, soil, scrap metal, junk, plasterboard recycling or plain old cardboard boxes. We are forward-thinking and environmentally-conscious.  Any rubbish that we can recycle, we recycle. We dispose of everything we collect in the most efficient, ethical and safe way possible because our environment and future generations are just as important to us as our efficient and friendly service.
Our Trusted Rubbish Removal Process
Simplicity is our priority. Part of the reason we have such excellent service is our focus on honesty, transparency and trust. We provide great communication and won't muck you around. All you have to do is register for a quote online, and we'll guarantee the best price.
The steps to a clear space with 1300 Rubbish are simple:
1. Call our friendly team or fill in the quick online form and we'll give you an obligation-free estimate of how much your job will cost
2. Choose a time that works for you.

3. Our team will call 20-30 minutes before they arrive, and will re-confirm the cost before they start the job.

4. Once we've loaded up the truck with any waste you want removed, and completed a thorough sweep-up, we'll dispose of the waste in the most environmentally friendly way possible: recycling and composting wherever we can.

Waste removal is our specialty, and we love to do the hard work so you don't have to. So get online or give us a call and get your free quote today! We come highly recommended, but don't just take our word for it. Our cheap Rubbish removal service boasts over two decades-worth of happy customers who are happy to sing our praises. There are no hidden charges, no run arounds, no inconveniences. With 1300 Rubbish, you get what you pay for –  the best rubbish removal service in Rose Bay.
Any Rose Bay residents in need of same day cheap rubbish removal in Rose Bay, our  Sydney junk collection service can't wait to get their hands on your rubbish. It doesn't matter if it's residential rubbish removal, commercial rubbish removal, construction rubbish removal or even end of lease and furniture removal, 1300 Rubbish  can be where you want, when you want, guaranteed. We aren't lazybones and we won't make you wait around like some other garbage guys have a reputation for.  Our same day service is unparalleled. Rose Bay rubbish removal has never been so easy.
After the waste removal, we stick around to sweep up and clean. We know better than anyone how messy rubbish disposal and rubbish removals can be, so we want to make sure your unwanted goods don't leave an unwanted mess.
Call us today and see why we're the best in the business!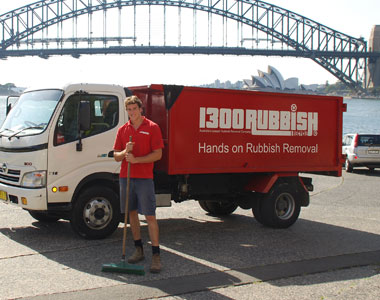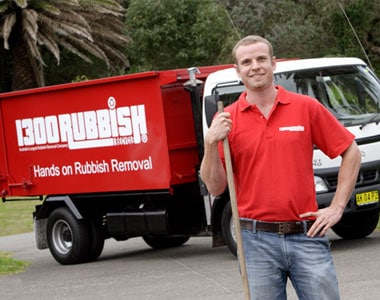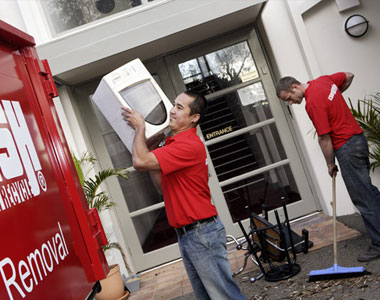 Book in Today
Fill out our contact form, or simply call us, we are available 24/7.
Once you have organised a day and time that suits you, our rubbish removalists will remove all your rubbish. We do all the heavy lifting and even help with the detachment of drawers and cabinets from their fixtures or walls. It's the easiest and quickest waste removal service!
Frequently Asked Questions
1. How quickly can we pick up your rubbish?
We are able to offer same day rubbish removal for many of our customers. How quickly we can pick up a load of rubbish will depend on many things such as the size of the job, its location and seasonality. Call us today for a free quote to find out about the best service in Sydney rubbish removal.
2. What areas around Sydney do you service?
We service the entirety of Sydney and its surroundings. We remove rubbish from the CBD, North Sydney, the Eastern Suburbs, the Sutherland Shire and Greater Western Sydney.
3. What services do we offer?
We offer a whole range of services in the residential, commercial and construction space. Whether you're just cleaning up around home, or you need an entire job site cleared, we have the team and truck for any rubbish removal job you need in the Rose Bay Area.
4. Can I get a free quote?
Yes! Call us any time, 24/7 for an obligation-free quote.