The Hands On Rubbish Removal Company
1300Rubbish take the stress and hassle out of rubbish removal for you.
Our teams are experienced in providing a fast, friendly and reliable service at an affordable price throughout Australia.
With more than 25 years experience, we understand the rules and regulations that surround many types of waste. We ensure that your rubbish, recyclables or waste materials, are disposed of correctly.
1300Rubbish takes pride in our service. We strive to be professional, friendly and punctual. With our experience and dedication to jobs both big and small, our service is hard to beat.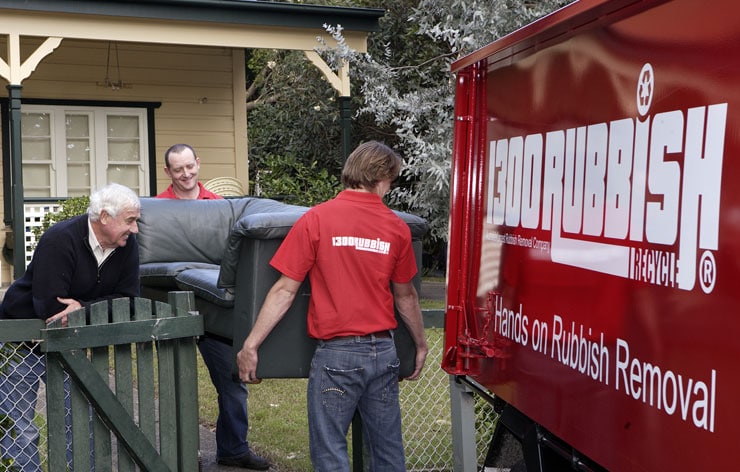 We provide a tailored solution to your rubbish problem. Using efficiency made possible through innovation and technology we offer prices that are hard to beat.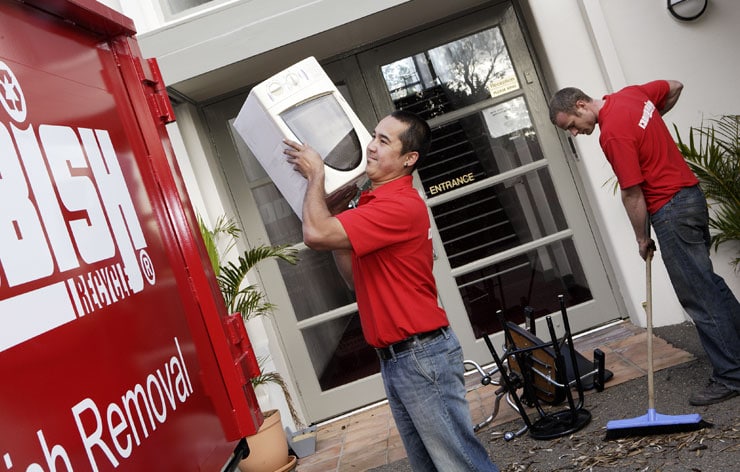 We Do All the Loading For You
You don't have to lift a finger – we pick up the rubbish where it lies. Once we've loaded your rubbish onto the truck, we do a thorough sweep-up.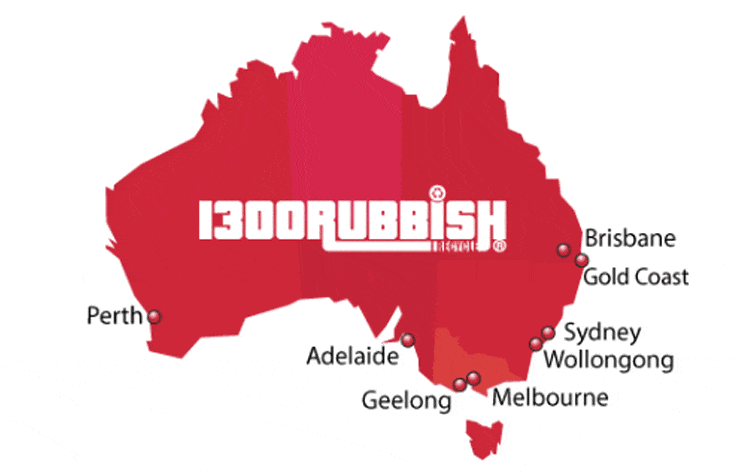 We service Sydney, Melbourne, Brisbane, Perth, Adelaide, Gold Coast, Wollongong and Geelong. To find out if we service your suburb click on the read more button below.
Rubbish Removal Sydney
Our service
Read About Our Service
If you're in need of a friendly team to assist you or your business with rubbish removal in Sydney, at an affordable price, you don't have to look any further. Our rubbish collection and removal team can easily take the stress and hassle out of removing office furniture, garden waste or even leftover construction materials.
Working in Sydney for so long means we are your local experts and know where to dispose of recyclables and other materials correctly in accordance with regulation. You'll have peace of mind that your household, retail or construction rubbish is disposed of ethically.
Choosing our services means you get peace of mind that all of your items and waste materials will be disposed of correctly and recycled or dismantled or reused when possible.
We service the entire city limits of Sydney. That means from the Eastern Suburbs all the way through to Bondi, Parramatta and even the CBD.
What we do
Our rubbish removal teams in Sydney service a range of workplaces, homes and construction sites to offer the most comprehensive rubbish removal services. We assist with the removal of your rubbish and waste from the rooms or areas it is in, so you don't have to lift a finger.
We then make sure the rubbish is transported the correct processing facilities and treated as required by law. That means recyclables are recycled, other waste and furniture are dismantled and chemicals and acids are correctly disposed of.
Comprehensive rubbish removal
A full-service removal means we do it all. Cleaning rubbish from the kerb is just the start. Our team will physically assist with removal of furniture, carpeting and almost anything you can think of.
This is perfect for those who need assistance in clearing out an old store or with the replacement of store merchandise and the removal of old.
The final clean
Once we complete the material and waste removal task, we then offer our cleaning services to prepare your new space, whether it be in the home, office or even a backyard. Our teams will then make sure the area is free of debris, sharp objects or broken materials and ensure it is safe and ready for the next thing you want to do with the space.
Experience, punctuality and pride
We take our service offering exceedingly seriously. That means you can expect our Sydney rubbish removal team members to be friendly, professional and prompt and our result to be second to none.
Our process has been developed to ensure we are on time, able to assist no matter how large the task and be complete within a set timeline. Once the removal process is over, we then clean everything up. We know we're the best in the business.
Transparent pricing
Part of our rubbish removal experience is the simplicity and peace of mind. This means we also offer transparent pricing so our Sydney customers know exactly what the job will cost. Once you've determined our pricing is perfect for you, simply let us know when to begin.
We don't want any one of our customer to experience bill shock.
Our expert Sydney rubbish removal team and quality equipment mean we are able to assist in the removal of countless items ranging from:
View the list here
Garden waste
Palm fronds
Grass cuttings
Wood and trees
Construction materials
Bricks and wooden planks
Wiring
Damaged materials
Glass and windows
Commercial and residential strip outs
Carpet removal
Linoleum
Printers and white goods
White goods and bedding
Fridges, freezers and more
Mattresses
Bed frames
Desks
Deceased estates and hoarding waste
General clutter and rubbish
Safely disposed
There are a few rules and regulations for Sydney rubbish removal that relate to the safe disposal of chemicals, hazardous waste as well as recyclables. We make sure our customer's rubbish is taken care of and disposed of correctly no matter what it is. This means customers of our Sydney rubbish removal can have peace of mind that their rubbish is dealt with ethically.
During the cleanup and collection process, we make sure to organise or prevent merging many different items together to make it easier to separate and recycle and repurpose certain items when we hand off some items to recyclers.
When more hazardous and dangerous materials and chemicals are concerned we will relay this to Sydney council's resource recovery facilities.
Capable Team
An experienced team working in Sydney rubbish collection for many years has given us the experience to plan to most efficient ways to collect, transfer and dispose of all different types of rubbish, from office e-waste to construction site bricks and steels.
Our team is dedicated to providing a seamless service, so all of our Sydney customers can expect a full-service removal and clean up at an affordable price.
Our mission is to leave our customers happy, clutter-free and left with a great clean space. There's no more capable or more motivated team than ours.
Suburbs we service
We offer our rubbish collection services to all suburbs in Sydney, so no matter where you live or work, we can collect any unused materials, e-waste and more.
Make cleaning and rubbish removal effortless and get in touch with one of our friendly team members today.